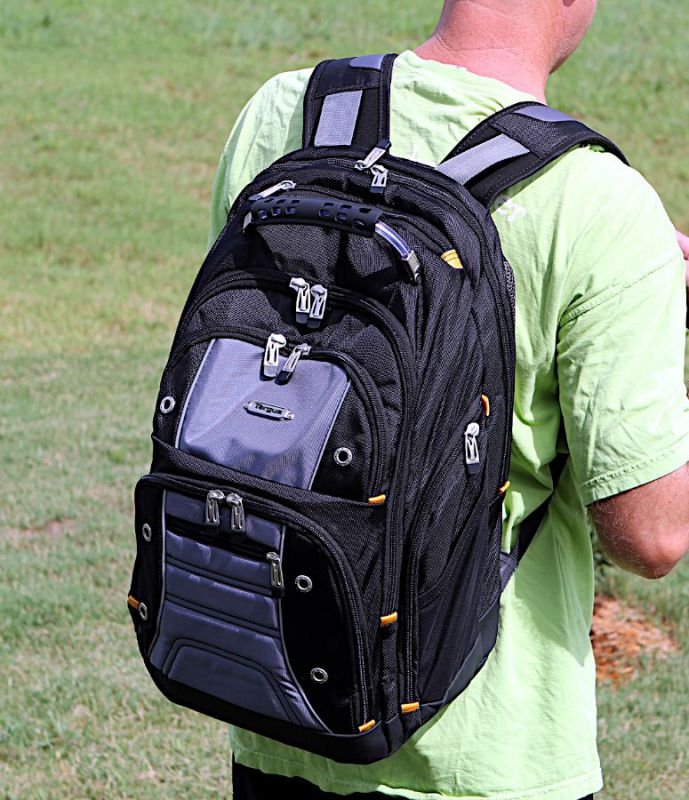 REVIEW – Some backpacks have very specific purposes. The Pakt Travel Backpack is designed to be a suitcase. This one is designed to carry board games. This one is for carrying a laptop. An everyday carry backpack, however, needs to find a sweet spot somewhere in the middle of these extremes. It needs to be able to carry your laptop to the office, your books to class, and your clothes on a two-day business trip as well as have plenty of space for all the odds-and-ends that you might want to bring along. Is the Drifter backpack from Targus the right bag for the job? Read on to find out!
What is it?
The name might make you think that this is only a bag for carrying your laptop around, but the 16″ Drifter II Laptop Backpack is much more than that. It's an everyday carry backpack that has a secure compartment for a laptop but also has plenty of storage to help out employees, students, and travelers alike. Its page on Targus' website says that it is "built to last and made for travel."
What's in the box?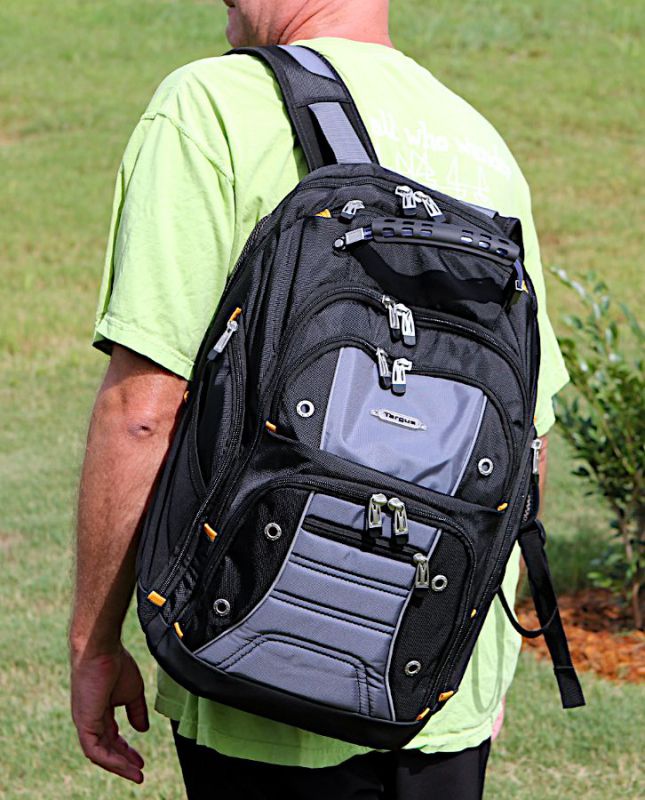 Hardware specs
Water-resistant bottom
Constructed of nylon materials
Works with up to 16" laptops
18 liter carrying capacity
17.00″ x 20.00″ x 5.00″ (W x H x D)
Design and features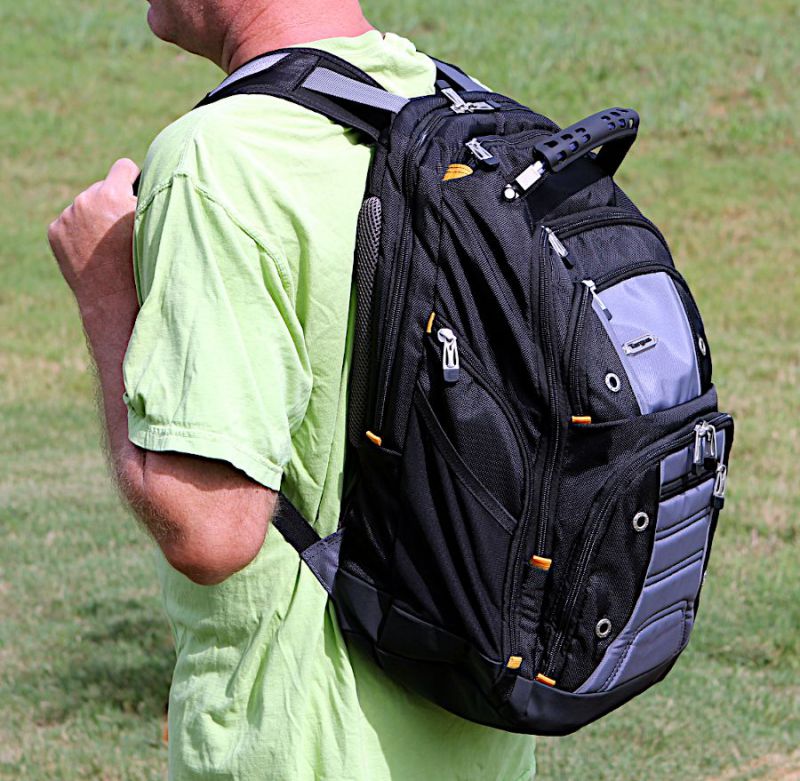 The design of this backpack is fairly standard. It has a compartment for the laptop in the back, a large compartment in the middle, two smaller compartments up front, and a host of specialty compartments all around. The bag is mostly black with a dash of grey on the front, and there are a handful of bright yellow accents, just enough to give it a splash of color. The bag is reservedly attractive, providing a dignified look that would be appropriate in most offices and classrooms.
Installation and setup
No installation is required. Take the backpack out of its bag, remove a label or two, and it's ready to go.
Performance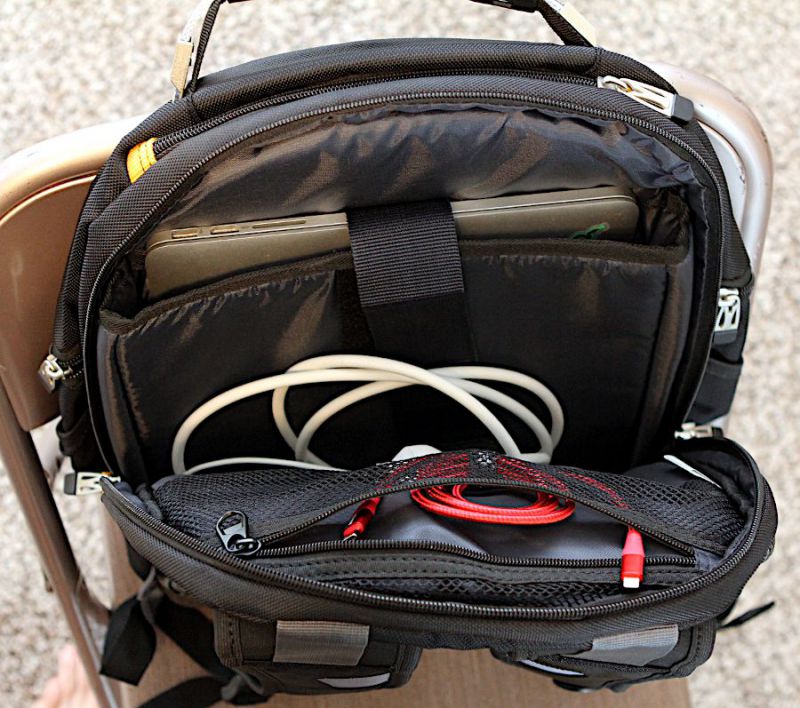 First, let's look at the various compartments in the Drifter, starting with the one in the back for the laptop. As the name suggests, this backpack can hold up to 16" laptops. When I opened the zipper, I found there were actually 3 spaces in this compartment. There's one for the laptop, which easily accommodated my 15" MacBookPro; in fact, I think I could put two more laptops in there with it. It has extra padding in front and behind as well as below, which I very much like, and a strap with Velcro to make sure the laptop doesn't slip out. My laptop should be well protected. There's a smaller, zippered mesh space, perfect for cables or a mouse. The main space in the middle could hold a power brick, a mousepad, or anything else associated with a laptop.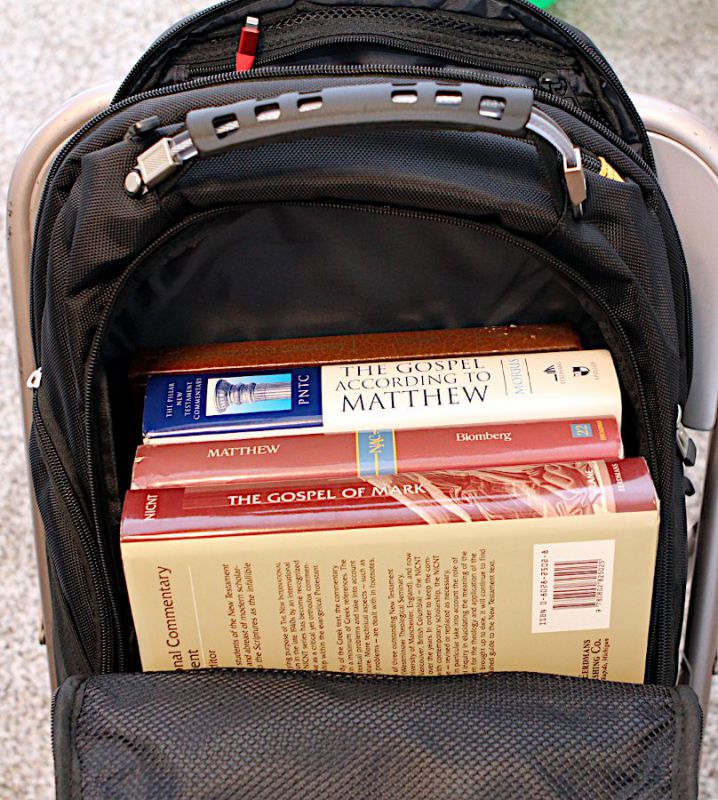 The next compartment is the main compartment. It's in the middle of the bag, and when I put my hand down into it and push towards the front of the bag, it extends out a full 7", which provides a deceptively large amount of space. I could easily fit enough clothes for a two-day business trip or a casual weekend at a friend's house. I put in eight full-sized, hardcover books, more than I would enjoy carrying around, and still had room left over! This compartment also has a space to slip in a magazine and another zippered mesh space.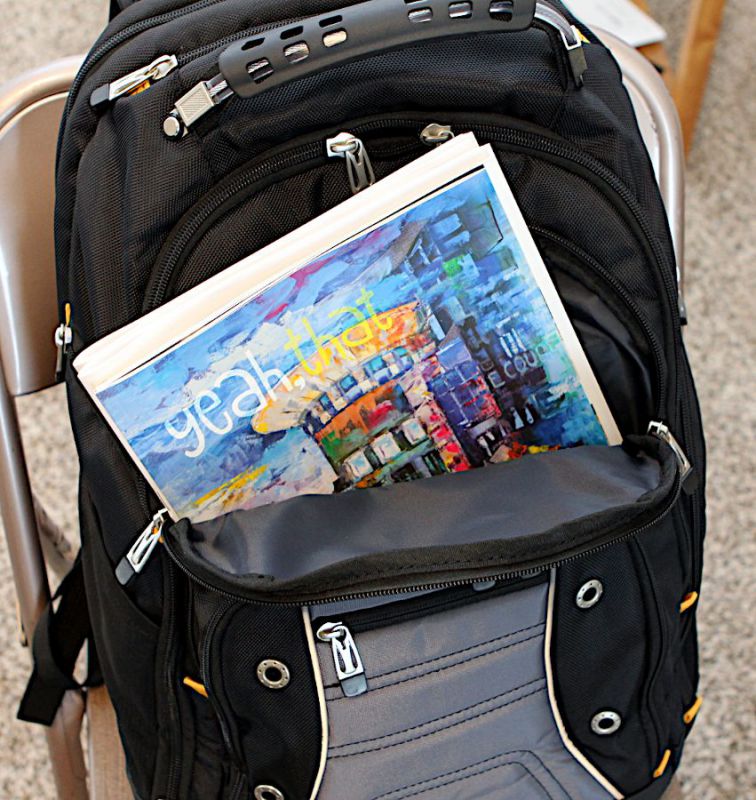 In front of the main compartment is a smaller one, about the right size for a couple of notebooks. It's deep but doesn't have much volume.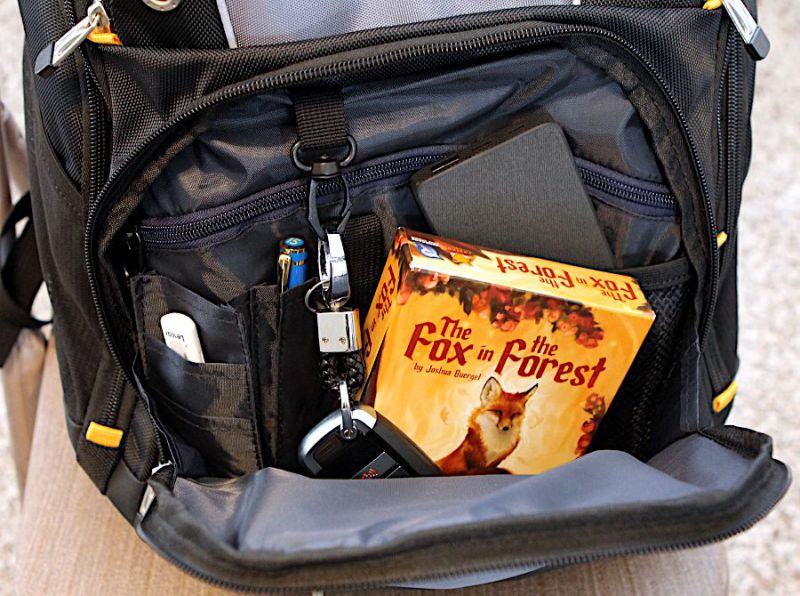 At the very front is a smaller compartment with a host of pockets and spaces for storing all the little things that I inevitably need to take with me. It can hold a power bank, pens and pencils, USB keys, a card game, and so much more.
Scattered around the Drifter are a host of smaller pockets. On the front is a 4" padded and zippered pocket, perfect for slipping in your phone or a small journal.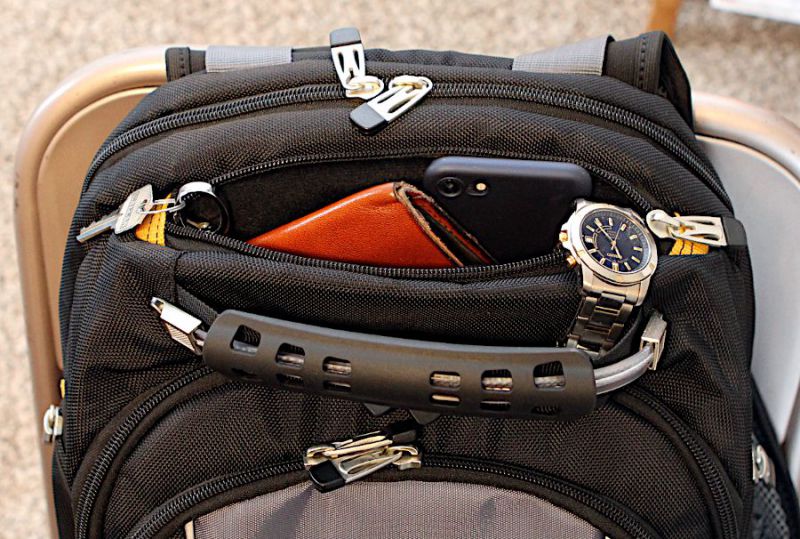 On the top, just behind the handle, is a zipped compartment that is lined with soft fabric. This is the perfect place to put my phone, Godbolé wallet, ring, watch, and other personal items when I'm going through security at the airport.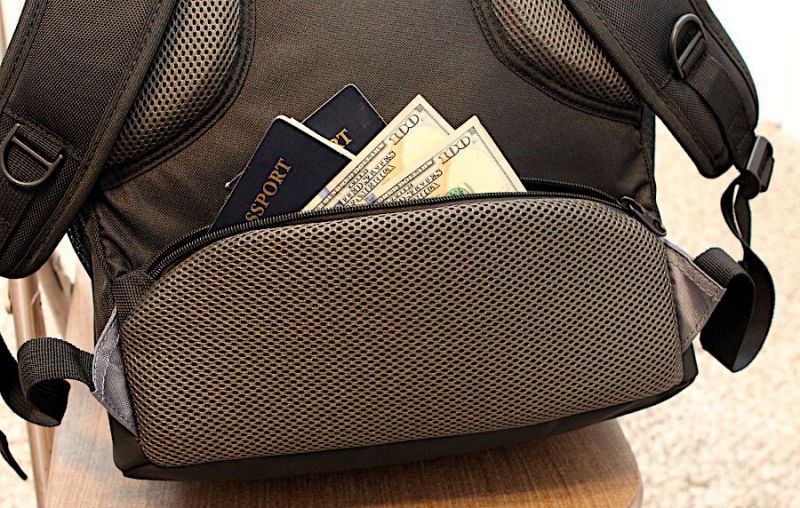 On the back of the backpack, somewhat concealed in one of the areas of the padding, is a hidden, 10" pocket. If I were traveling overseas and doing some sight-seeing in a big city like London or Kuala Lumpur, then I would definitely use this to hide my most important valuables, like travelers checks, my passport, some extra cash, or a slip of paper with emergency phone numbers.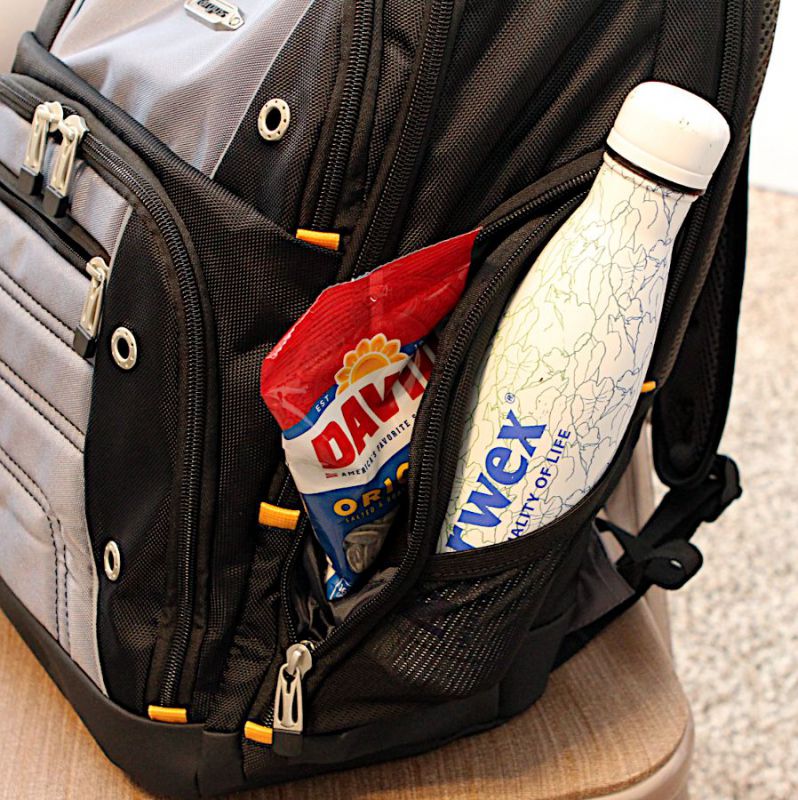 Each side of the backpack has a pair of spaces. One is for a smaller-size water bottle, held in place with some stretchy material, and another is a long, thin zippered pocket that looks like a great place to put some snacks.
When all of these are considered together, it's obvious that the Drifter has a lot of storage capacity and a wide variety of pockets and compartments for a wide variety of items. I think it has a place for everything I would want to bring on a trip.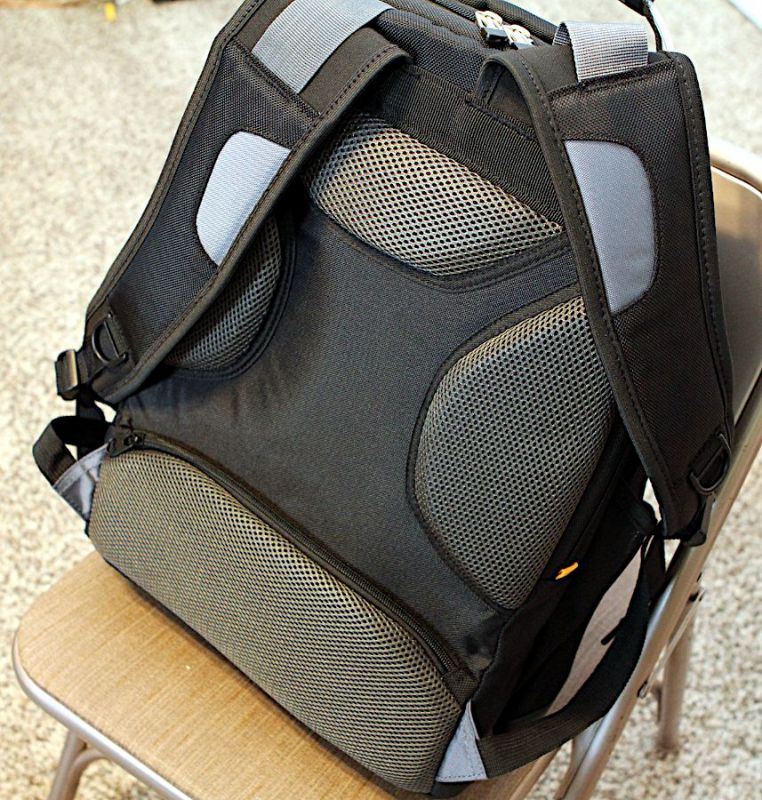 Second, let's consider the comfort of the backpack as a whole. There are four areas of thick padding on the back, and the lower one is designed to provide lumbar support. The straps are also padded along the entire inside length. Taken together, they make wearing the Drifter pleasantly comfortable.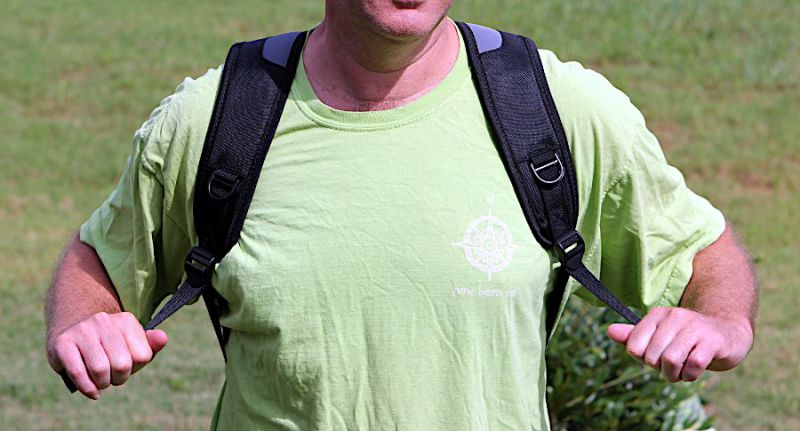 The straps can be adjusted in front, which tightens or loosens the backpack. The only thing missing is a second set of adjustments on top of the straps, like those on the Osprey Tropos, which help to raise or lower the position of the backpack on the back. This would be a nice addition but isn't necessary.
Extra Features
The Drifter is made of durable nylon material, and thus I expect it will hold up under and normal wear and tear for many years. The nylon is water-resistant, as is the specially-designed base, but it's not waterproof, and Targus doesn't advertise any rain covers that can be purchased. I think this backpack will be fine in a brief shower, but I wouldn't want to trust my laptop to it during a downpour or while hiking all day in the rain.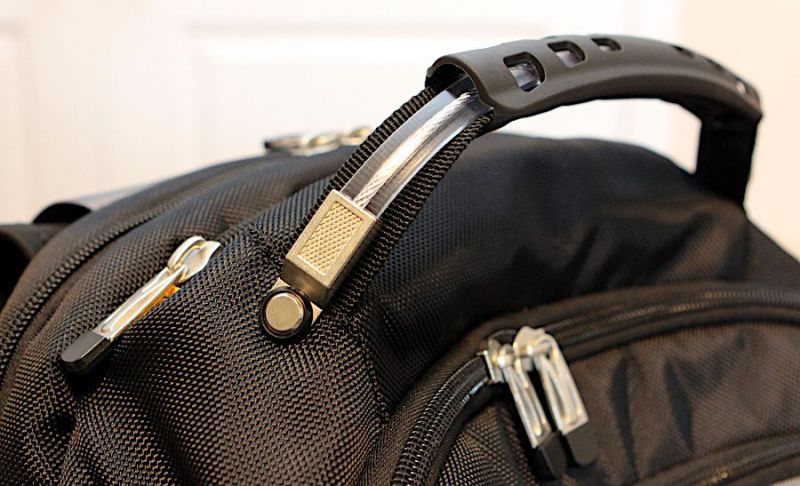 The handle is made of sturdy plastic, and I can see the thick, metal wire that runs through it and the metal grommets that support it on each side. The zippers are also sturdy, and I didn't experience any problems opening or closing them. I believe that this is a backpack that will last a long time; it's an investment worth making.
What I like
Spacious carrying capacity
Many, varied storage compartments and pockets
Strong, durable construction
Comfortable padding
What I'd change
Final thoughts
I'm very pleased with Targus' 16" Drifter Laptop backpack. I love all the various places to store items, the padding on the laptop pocket, the huge storage space in the central compartment, and the secret pocket in the back padding. It has so many different places to store items that I don't think I will ever say to myself, "I can't find a place to put this!" The construction is solid, and I believe that the Drifter will last a long time. If you're in the market for an everyday backpack, particularly one that can carry a laptop, then without any reservations I recommend that you put this backpack on your shortlist.
Price: $47.74 on Amazon, $84.99 on Targus' online store
Where to buy: Amazon or Targus
Source: The sample for this review was provided by Targus.
Support The Gadgeteer: The Gadgeteer's main sources of revenue are advertising and affiliate links in articles like this one. Even though we may receive compensation, we always give our honest opinions about our experiences with each product.
tinyurl
is.gd
u.nu
clck.ru
ulvis.net