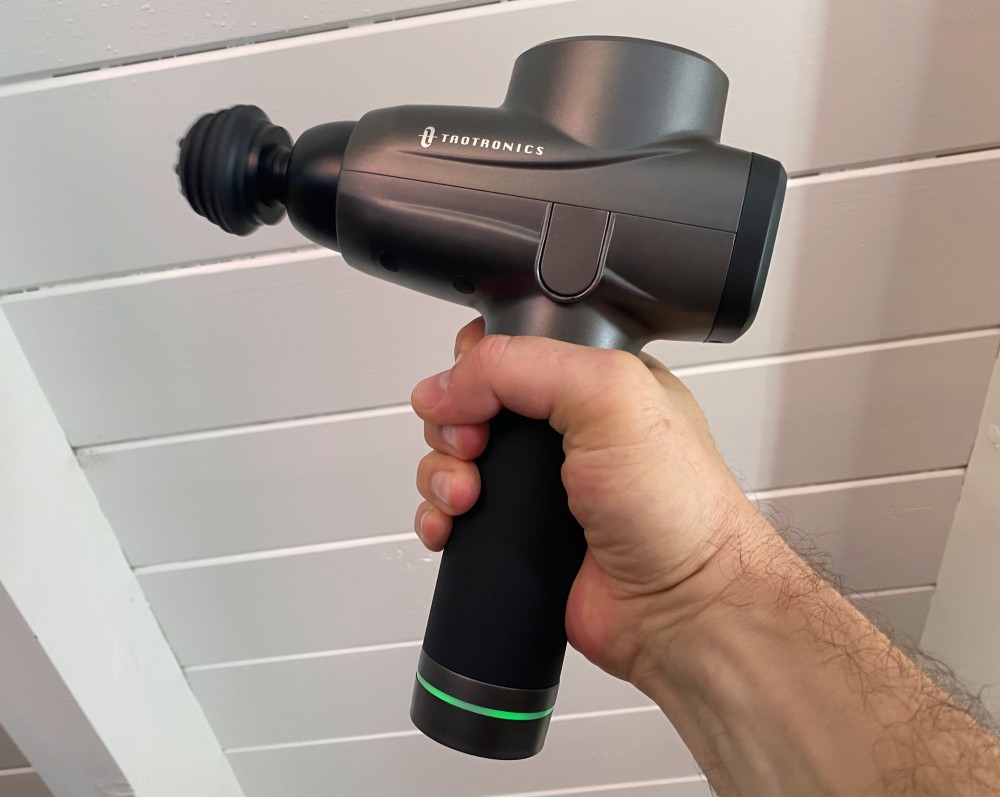 REVIEW – Our household is one of mountain bikers, skaters, runners and climbers. It should come as no surprise that we are frequently sore and often nursing some adverse result of our beloved activities. We have a variety of foam and hand rollers, tens units and deep tissue leverage devices along with the requisite hot and cold packs, all of which see a good deal of use. I'd been eyeing a percussion massager for a while and TaoTronics came through with their aptly named Massage Gun in need of a review. Here we go.
What is it?
The TaoTronics Massage Gun is a battery powered, handheld percussive massager. This category of massager doesn't vibrate per se, but instead has a head that plunges and retracts a full 12mm resulting in a wide range of controllable intensity.
What's in that good looking storage case?


Travel Case
User Guide, Thank Card, Trigger Points Guide
Power Adapter (not shown, but included)

Massage Gun (Model: TT-PCA003)
6 Massage Heads
Moisture control packet (for storage)
Hardware specs
Battery: 2600mAh battery
Runtime: Up to 4 hours, Standby of 10 hours, Auto shut-off after 15 minutes continuous use
Modes: 10 different speeds (1400 to 3200 strokes per minute)
Motor: 24V high-torque motor with 12mm of stroke, and high-quality bearings for smooth operation
Noise: low levels of 42-52dB
Massage Heads: 6 different interchangeable heads to target unique muscle groups
Design and features
Aesthetically, the TaoTronics Massage Gun looks like a lot of other ones currently available, but the slate grey color looks pretty clean. They also make a version in a metallic blue (not shown).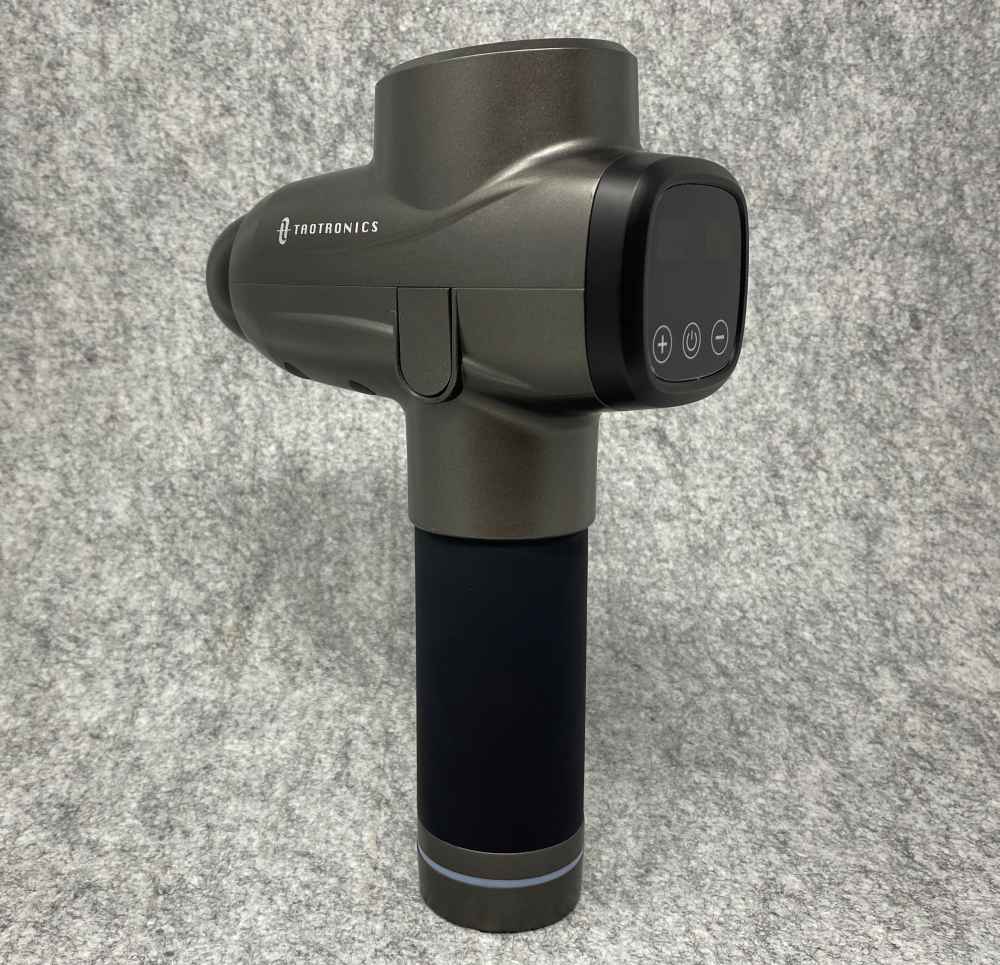 The surface finish is smooth and the hand grip sufficiently tacky for helping to hold the massager while using.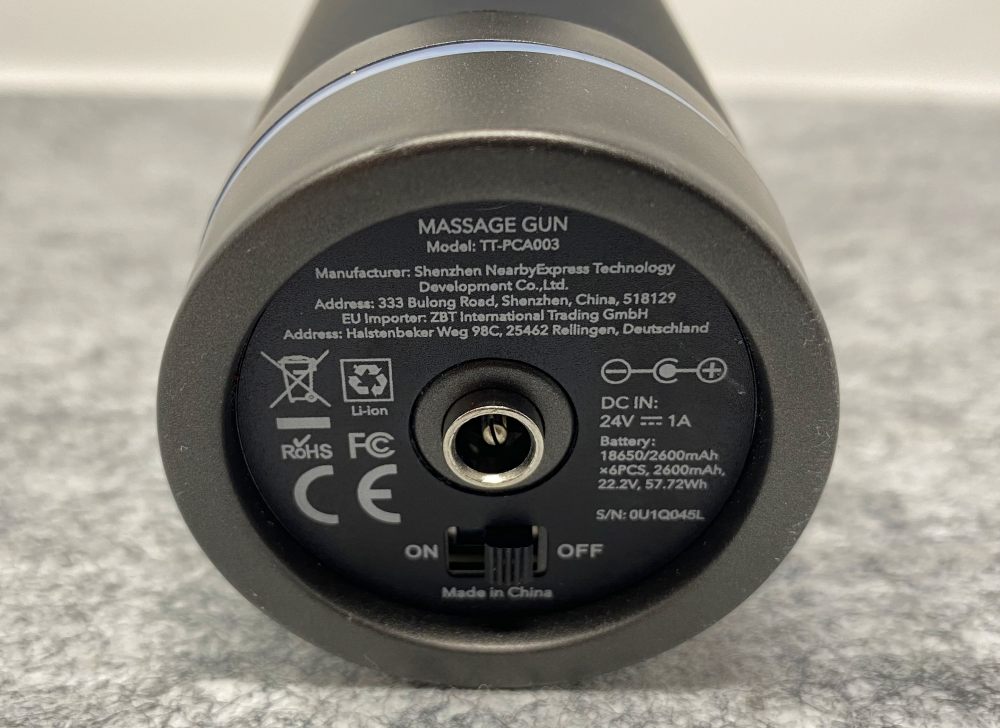 On the bottom of the handle you'll find the product info, certification markings, charger port and master power switch.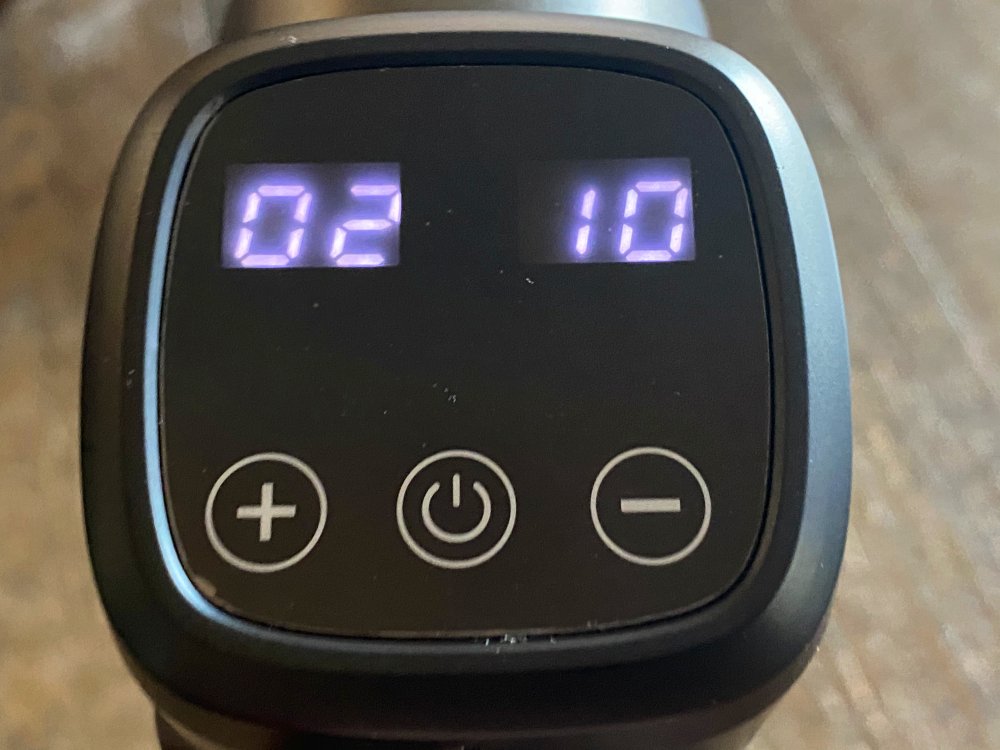 The control screen has the functional power toggle along with increase and decrease speed buttons. The screen will display the speed setting top left (01 slow – 10 fast) and the battery level top right (10 full – 01 low).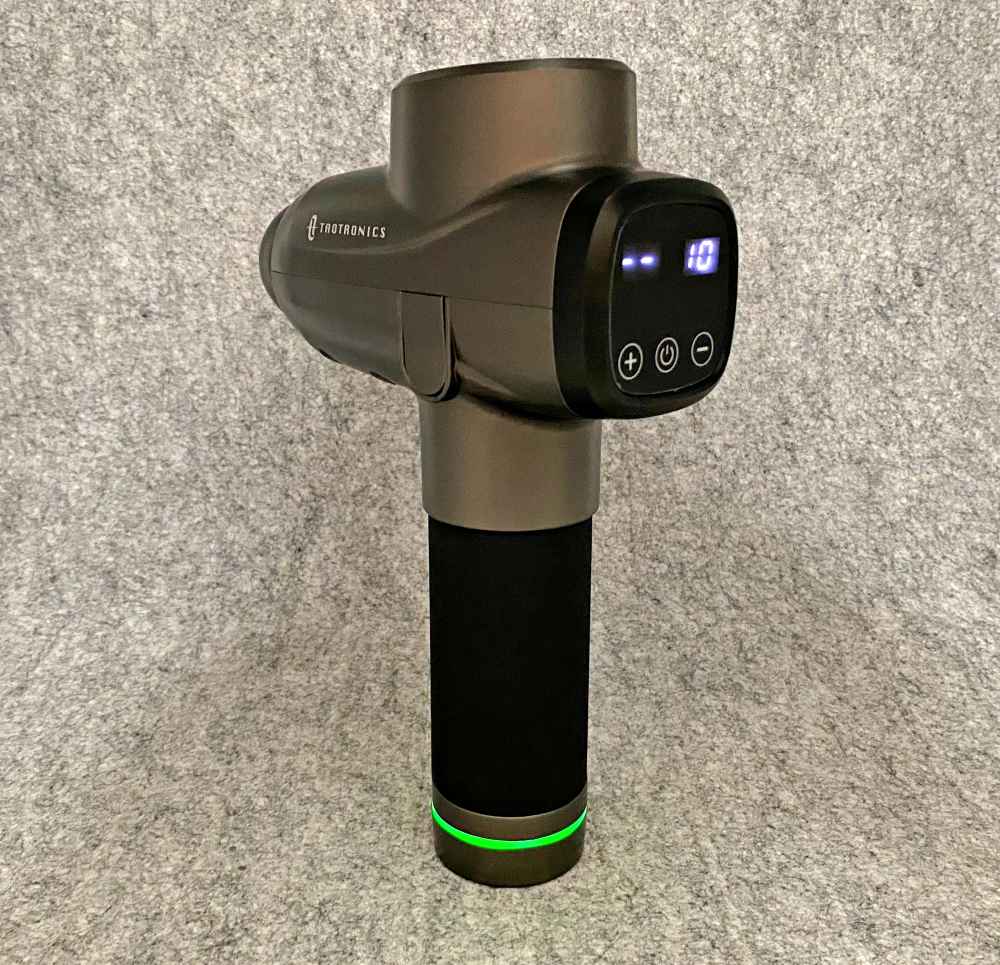 There's a multi-color LED ring encircling the base of the handle that helps draw attention to battery status. The manual states Blue ≥ 40%, Yellow ≤ 40%, Red ≤ 20%. As you can see it's green in the photo above and I've yet to see any other colors. I'm guessing that green represents ≥ 60% and we haven't dropped below since we regularly charging it because we use it so much. For us that light ring is a good reminder to turn off the master power switch when finished using the massager.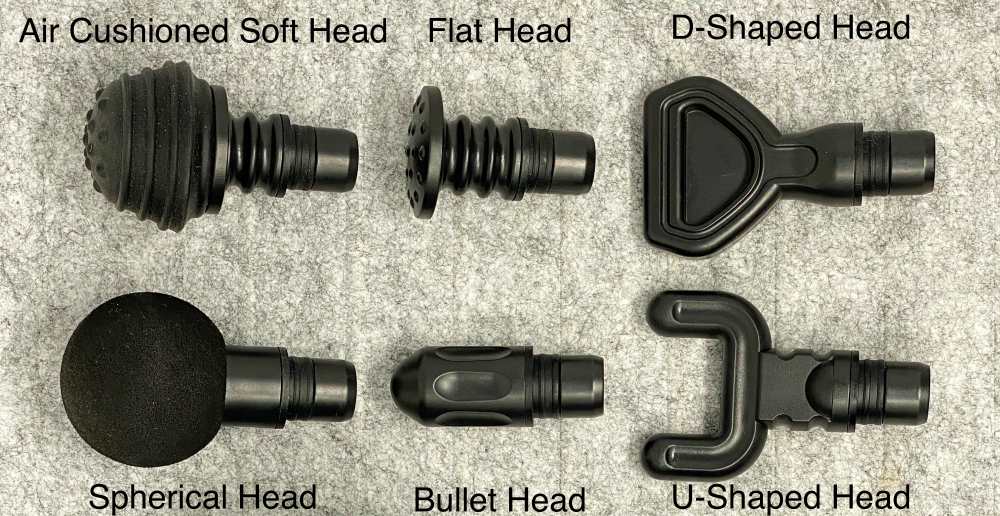 Six massage heads are included to target different muscle groups.
Air Cushioned Soft – for sensitive muscles and relaxation
Flat – for back bulk muscle groups
D-Shaped – for abdominals
Spherical – for large muscle groups like arms, back, hips, thighs, calves
Bullet – for deep tissue like meridians, joints, palms and soles
U-Shaped – for neck, spine and achilles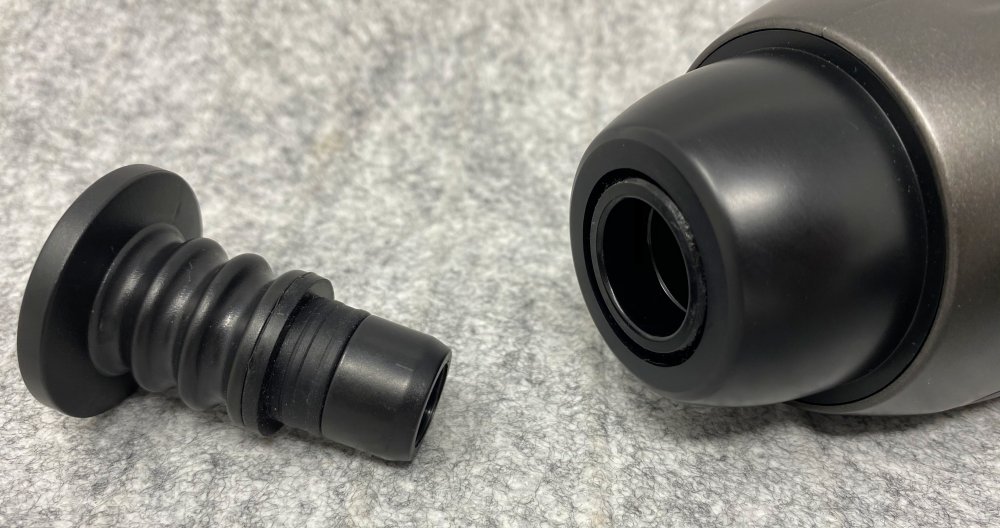 The front end houses the piston/plunger that accepts those massage heads. It has 12mm of motion and does a good job of not having possible pinch points. The head inserts all the way up to the flange on the head shown.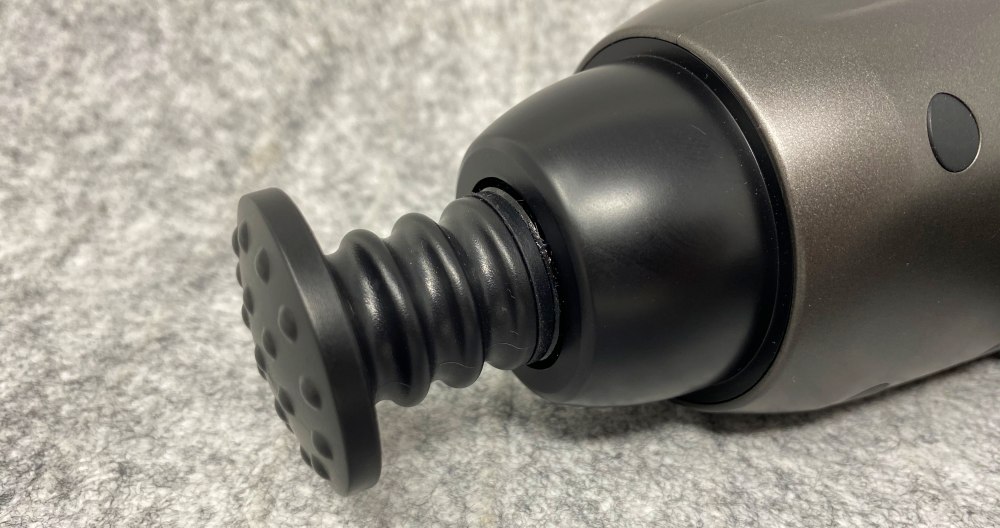 Setup
All of you know the drill here. Open up the box, grab the charger and top off the battery before using the first time. My review unit was really close to full so it was ready to go quickly.
Which head to use is completely up to you. The trigger points guide is useful for picking a head for specific muscle groups, but I'd suggest starting with one of the rounder heads. Either the Air Cushioned Soft Head or the Spherical Ball will help you to learn about the intensity of the massager, the speed settings and working soft tissue in proximity to bones and joints.
From there you should experiment and find out what works best for you.
Performance
From the first use I knew this would get regular use by everyone in the house. With the exception of the double-power switch (more on that in a bit), the Massage Gun is super easy to use, adjust and the results are tangible. When you have sore muscles, active massage is something that physically makes a difference. It's not always easy to tackle that on your own and with this device it's easy for most aches.
Here's a second video where I cruise through all 10 speed settings. It sounds louder than it is due to recording this inside my photo box and how close my camera is to the Massage Gun.
My son took to using it after rock climbing to ease tension in his forearms. After running my wife would target her quads. I've got years of ankle trauma so I've been using it to wake up my calves in the morning and relax the strain on my achilles. It's made a big difference for us and we're quite happy to have it readily available.
The interchangeable heads are great. They pull straight out and push in without any locks, buttons or fuss. For a bit we were all using the Spherical Head as it's pretty universal, but I ended up favoring the Flat Head as it has a wider surface area and also slides better on top of clothing.
During the testing period I had a pretty good mountain bike crash where my shin said hello to a log that removed me from my bike. I'll let you enjoy here real quick (no gore).
I had some good shin pads on so no visible damage, but had a lot of soreness over the next couple days. I was able to use the Air Cushioned Soft Head to work that shin area and keep it from stiffening up too much. The extra compliance of that head was super useful especially working close to the shin bone. Was going to add a picture here, but the yellowish tint of my shin convinced me that wasn't a good idea.
Speaking of bones (and joints)… As you're using the gun you can vary the pressure by how much you press the gun into the massage. I mention this because you sometimes lean into it a bit, but you'll want to unweight as you get close to something like a shin. Once the motion end hits something firmer, it pushes the gun back resulting in a jackhammer like approach which can be very unpleasant. As such, I've yet to to try the U-shaped Head meant for neck, spine and achilles. It would need to be someone else holding the Massage Gun for those first two and not sure I'd be game for that.
The intensity controls work well and I think the most we bumped it up to was level 4, with most of the sessions staying at levels 1 or 2. It's relatively quiet in those ranges and it's fully possible to watch (and hear) TV while using the Massage Gun.
All in all this is a great product. There are three things I'd like to point out.
First, the grip is pretty large and common for this design as it's where the batteries are. It's nearly 2″ in diameter and could be uncomfortable for anyone with small hands. Here's that opening photo again for reference with my-need-2XL-gloves hand.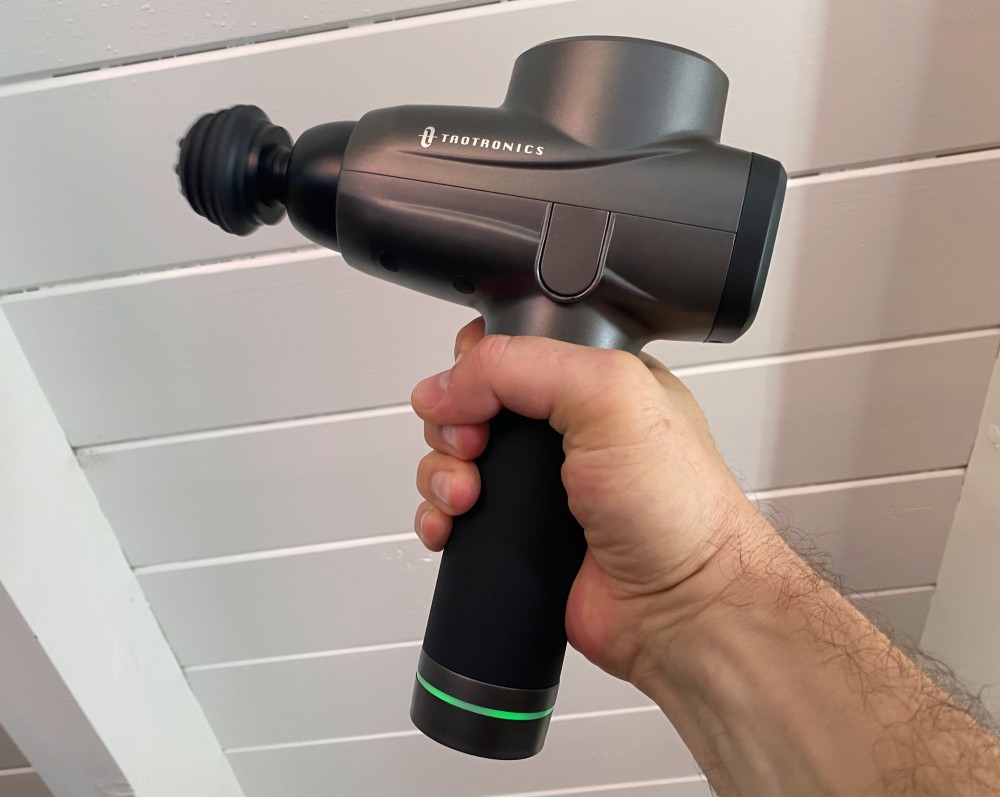 Second is the double-power switch comment I made earlier. The display screen has a power icon, but won't do anything unless the master power switch is flipped on the bottom of the handle. This isn't a huge deal, but I watched the whole family press the icon button on the screen first and then look around the device before finding the master switch. Similarly I found the Massage Gun still powered on after sessions because only the screen button had been turned off. The LED ring helps alert you in that case, but you need to know to look for it.
Finally, it's great that this comes in a storage case, but it's big case and yet not big enough to put the Massage Gun in there with a massage head still installed. Seems like the gun could have been rotated 45º to allow for this and maybe overall size reduction to minimize the overall footprint.
What I like
Great focused massage on demand
Interchangeable heads specific to muscle groups
Quiet operation
Storage case keeps it all together
What I'd change
Single power button would be great
Let it fit in the case with a massage head attached
Final thoughts
A percussion massager is a great addition to your toolkit if you deal with any type of muscular aches and pains. TaoTronic's Massage Gun is easy to use, quiet and provides a set of massage heads to target different muscle groups. In my opinion, this is one of those products that pays for itself very quickly.
Price: $129.99
Where to buy: Amazon
Source: The sample of this product was provided by TaoTronics
Support The Gadgeteer: The Gadgeteer's main sources of revenue are advertising and affiliate links in articles like this one. Even though we may receive compensation, we always give our honest opinions about our experiences with each product.
tinyurl
is.gd
u.nu
clck.ru
ulvis.net
shrtco.de