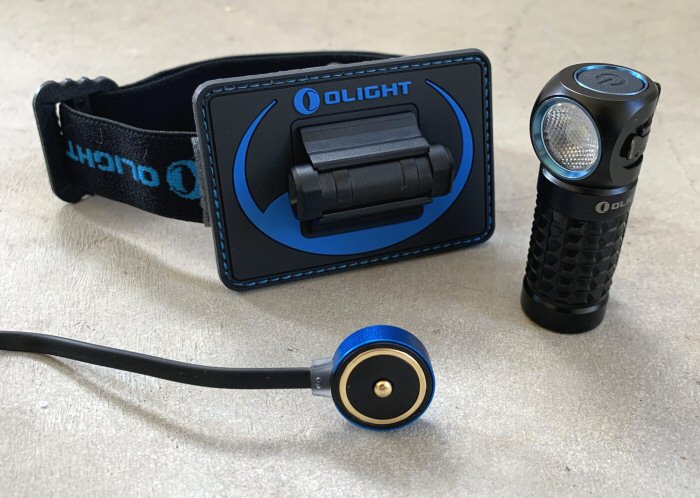 REVIEW – Having a light source handy is part of any good EDC kit. Because my daily needs are typically fairly light duty, I don't opt for large, uber high-powered lights, but instead gravitate toward small, compact, powerful lights. The Olight Perun Mini is one such light. Let's take a look.
What is it?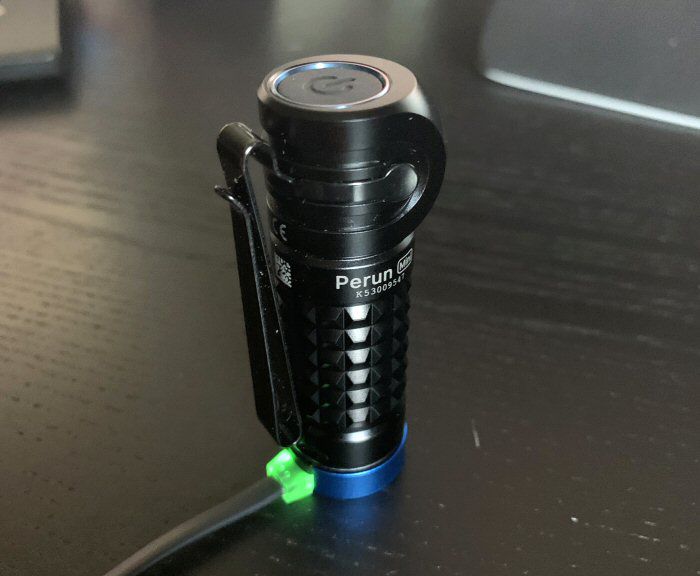 The Olight Perun Mini is a pocket-sized flashlight with multiple brightness levels, a rechargeable battery, and a magnetic charging base.
What's in the box?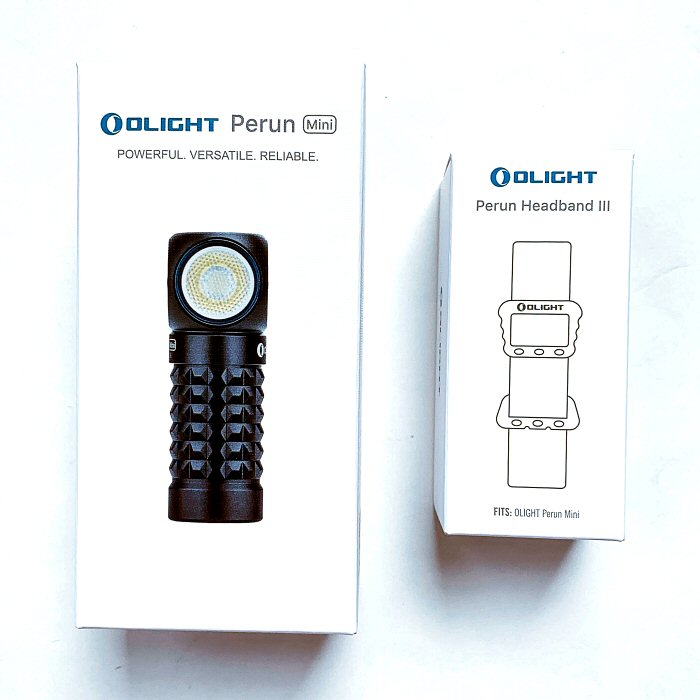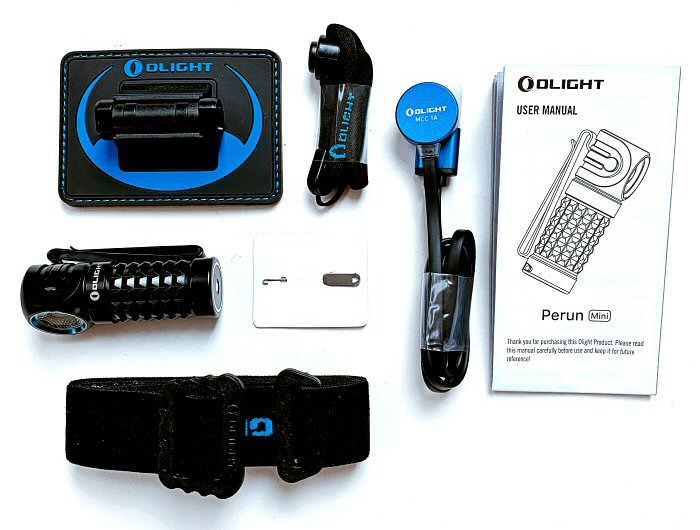 The Olight Perun Mini includes the following items:
Perun Mini flashlight (battery included)
MCC 1A Magnetic Charging Cable (USB)
Stainless Steel Pocket Clip
Duty Patch
Lanyard with toggle
Pin Tool (to assist with attaching lanyard)
User Manual
Additional accessory not included with the Perun Mini:
Hardware specs
Per the Perun Mini product page on the Olight site:
Max output: 1,000 lumens
Light Intensity: 2,500 candela
Max Beam Distance: 100 m
Light Form: Wide/broad hotspot
Models/Light Levels:

"Turbo" = 1,000-250 Lumens, 1 minute+ 85 minute runtime
"High" = 250 Lumens, 98 minute runtime
"Medium" = 65 Lumens, 6 hour runtime
"Low" = 15 Lumens, 25 hour runtime
"Moonlight" = 2 Lumens, 4.5 day runtime
SOS/BEACON = 2 hours, 20 minute runtime

Power: IMR16340 rechargeable lithium battery
Charge type: USB Magnetic Charging Base
Lens / Reflector Type: TIR Optical Lens (wide/broad beam)
Pocket Clip: Dual-directional spring
Water Resistance: IPX8
Drop Resistance: 1.5 m
Weight: 1.83 oz / 52 g
Length: 2.42 in / 61.5 mm
Head Diameter: 0.83 in / 21 mm
Body Diameter: 0.81 in/ 20.6 mm
Design and features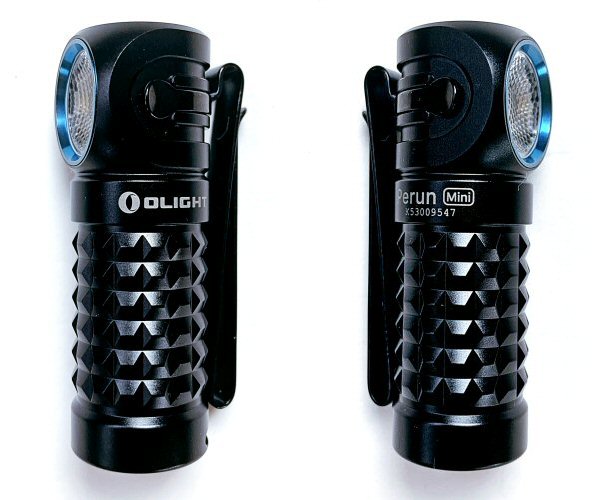 My initial impression of the Olight Perun Mini, part of Olight's P series of lights, was that it is very small, stout, and compact, with a solid, well-built feel. Its aluminum body with a textured grip area that has knobby, somewhat pyramidal shapes gives it a bit of a resemblance to a WWI era British No. 3 Mark 1 Hales rifle grenade [which I only know about because it was used as a component of Obi-Wan Kenobi's lightsaber in Star Wars – Episode 4: A New Hope and I am a fairly substantial Star Wars geek].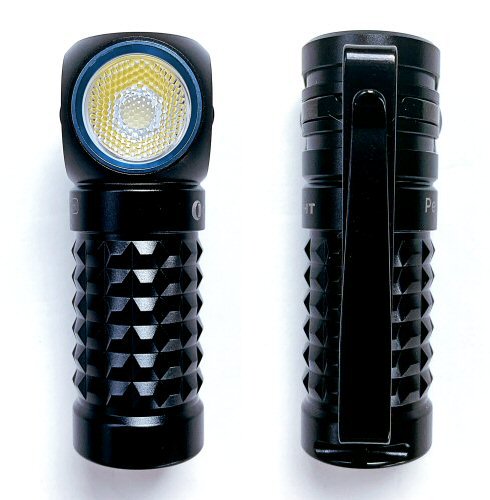 The Perun Mini has a right-angle head with a PMMA Optical Lens that is configured for a wide/broad beam projection.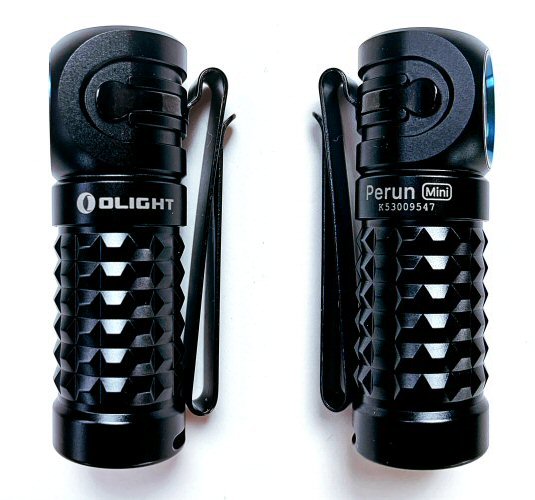 The Perun Mini has a removable clip that curves back on itself. This Dual-Directional design allows it to be clipped either "forward" (toward the light end) or "backward" which gives versatility to how it can be clipped into pockets or onto objects. Also, the clamp portion that attaches the clip to the light is quite strong, so having it accidentally get knocked off is very unlikely.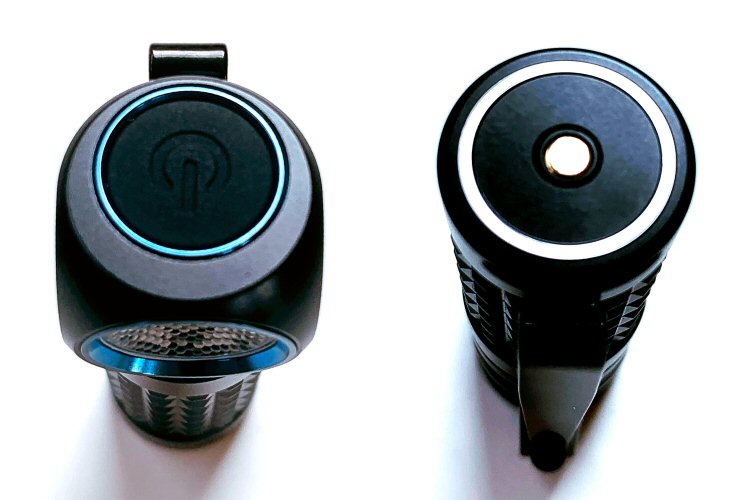 The Perun Mini has a single switch button on the light end that is silicon-covered and provides a seal that aids in its IPX8 water-resistance rating. Pressing and holding the switch begins cycling through the light modes. The mode is selected when the switch is released. A long press switches it off. The switch has just enough "clickiness" for pleasant tactile feedback without being overly difficult to press. The opposite end is a magnetic tail that has a metallic ring that combines with the metallic dot in the center to act as the contacts for charging its rechargeable battery.


The head of the Perun Mini can be unscrewed to access the included Olight IMR16340 3.7V rechargeable lithium-ion battery. The battery compartment is sealed via gaskets to help achieve the IPX8 water-resistance rating. I found it challenging to unscrew the head, but once I got it started it became much easier. Screwing it back on was even more challenging, because the clip pushes against the body, making it difficult to align the mating threads, but eventually, I got it started and the rest was easy.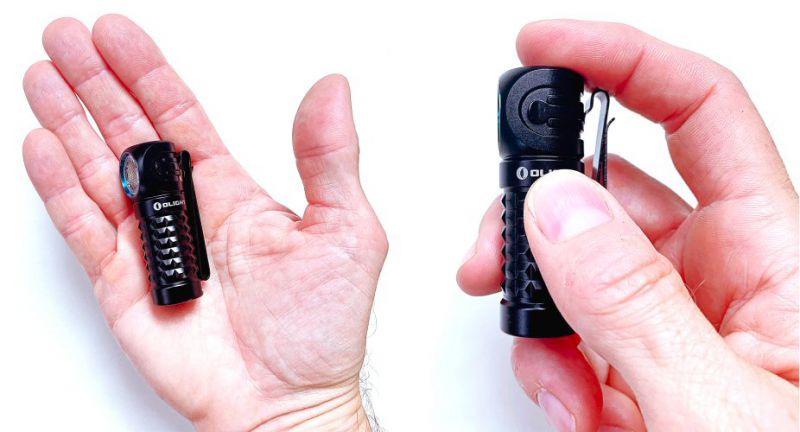 In these photos, you can see that the Peurn Mini is indeed "mini"—it's a quite short and stout design. It easily fits into the palm of your hand and also it easily fits into a pants pocket or purse.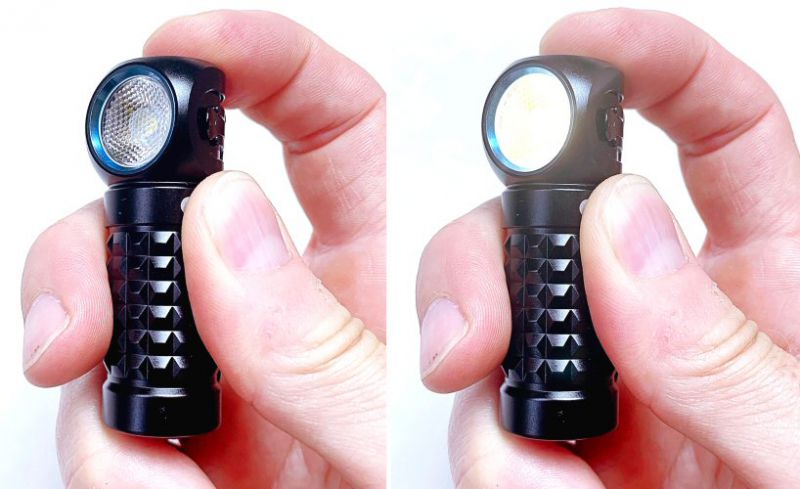 The Perun Mini is my first right-angle flashlight. My understanding is that right-angle flashlights are designed as such to allow for better hand-free use. Because the head of the light is at a right angle with respect to the body of the light, the light can be placed on its base to illuminate an area, and the light from the beam travels outward, rather than upward. Therefore, your hands are free to work on what the light is illuminating. This is why right-angle flashlights are often used by the military.

The Perun Mini includes a wrist lanyard with a pushbutton lock to secure it to your wrist. The lanyard is attached by carefully sliding the thin string end through a tiny hole in the base of the light, then pulling the other end of the lanyard through the thin string end. The Perun Mini actually includes a small tool that can be used to help with this, but I found that I didn't need it. The pushbutton lock can then be slid down and used to secure it to your wrist.

One of the unique features of the Olight Perun Mini is its magnetic charging base. The body of the Perun Mini includes contacts that charge its included lithium-ion battery through the case without removing it. This is a very convenient feature and because the charging base is magnetic, it literally snaps itself directly to the bottom of the Perun Mini quickly and easily with the charging contacts automatically aligned every time.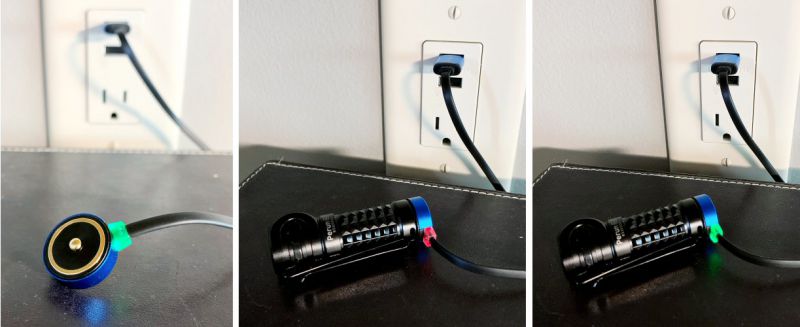 When the magnetic charging base is first plugged into a power source, a small LED illuminates green to indicate that it is receiving power, as seen in the far left image above. When the Perun Mini is snapped onto the magnetic charging base, that LED switches to red to indicate that the Perun Mini is charging, as seen in the center image above. Once the Perun Mini is at full charge, the LED switches to green again, as seen in the far right image above. It took about 1 hour to fully charge the Perun Mini's battery from being completely drained.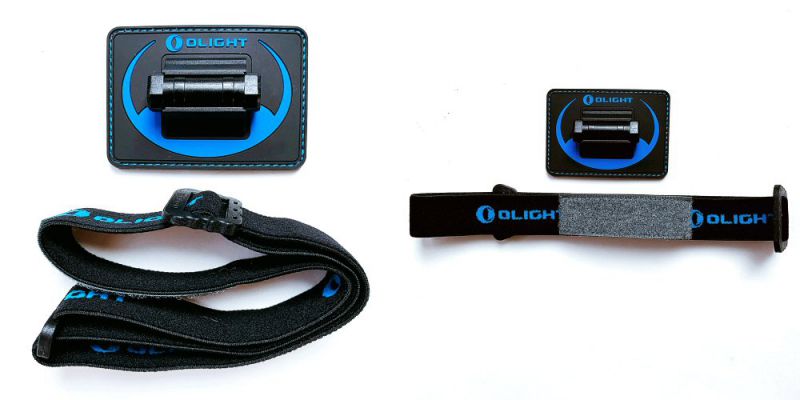 The Perun Mini includes a Duty Patch that includes a flexible PVC front with holding fixture for the Perun Mini's pocket clip on the front and Velcro hook field backing. The Olight folks also included an adjustable elastic headband that has a Velcro loop field to which the patch can be attached. The headband is available for purchase separately.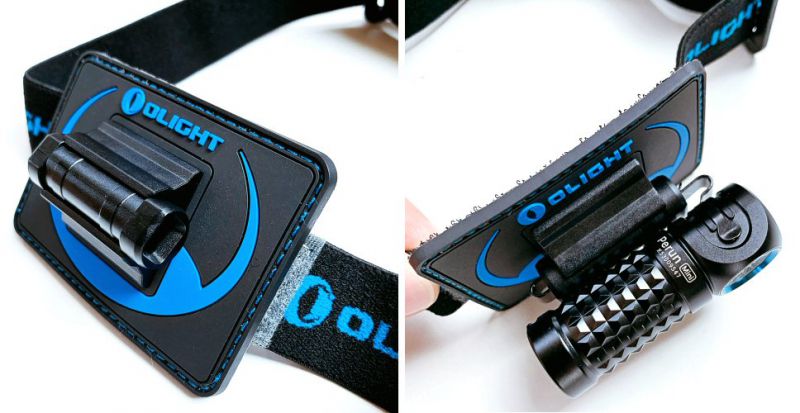 As mentioned above, to the front of the Duty Patch is attached a holding fixture into which the Perun Mini's pocket clip can be inserted. The fixture can be swiveled up or down a total of 60 degrees to adjust where the Perun Mini is illuminating. This swiveling feature holds securely so it will stay in place while using it.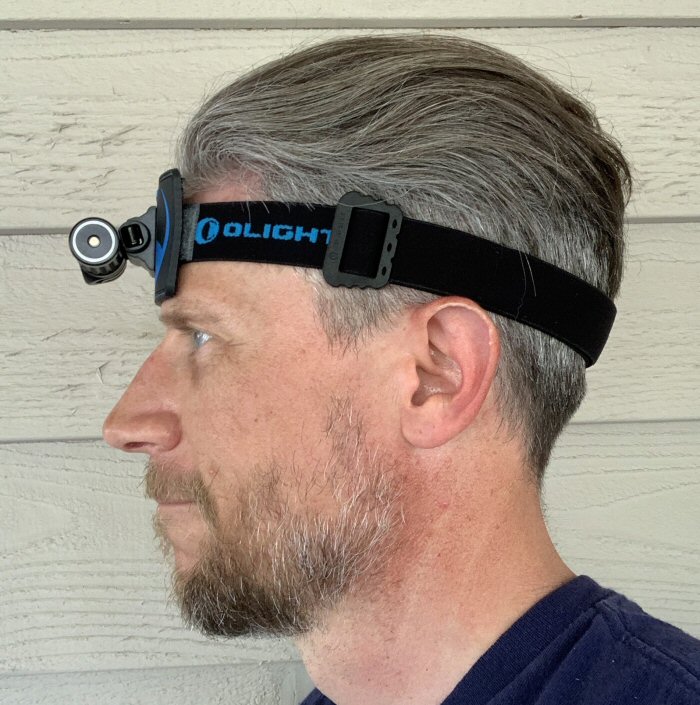 The combination of the Perun Mini, its Duty Patch, and headband all combine to function light any standard headlamp.

The Duty Patch's Velcro hook backing can also be attached to a Velcro loop field, such as the one on the front of my GORUCK Tac Hat as shown above.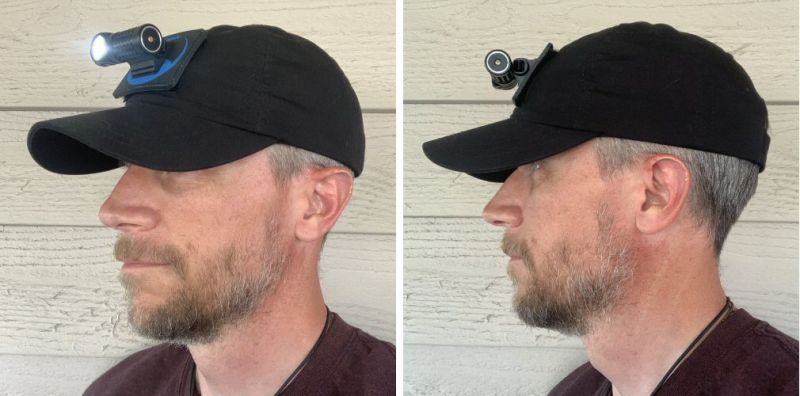 This feature gives the Perun Mini even more versatility, as seen in the images above.

The Perun Mini's LED produces a white light with a slightly cool, bluish tint. It has several operating modes which are as follows:
On/Off: If the Perun Mini is not locked out, click the switch once to turn it on, again to turn it off.
Model select: When the Perun Mini is on, press and hold the switch to cycle through the mode sequence: Moonlight, Low, Medium, High. Releasing the switch selects the desired mode.
Moonlight mode: When the Perun Mini is off or in Standby mode, press and hold the switch for 1 second to activate Moonlight mode, which produces the lowest level of light.
Turbo mode: Two quick presses on the switch activates Turbo mode, which produces the highest light level. Two more quick presses switch Turbo mode off.
SOS mode: Three quick presses on the switch activates SOS mode, in which the light blinks off and on.
Lockout: The instructions for this were pretty confusing and I never quite figured it out.
Timer: The Perun Mini is able to be set to turn itself off after either 9 seconds or 3 seconds. However, like Lockout, the instructions for this were pretty confusing and I never quite figured it out either.
Moonlight, the lowest light level, is suitable for tasks such as acting as a booklight—it only casts light for a few inches but for a long runtime. The Low, Medium, and High light levels cast progressively brighter light for progressively farther distances, and with progressively reduced runtime. Turbo mode casts light a very far distance and at a high enough intensity to be painful if you look into it; as expected, its runtime is quite short.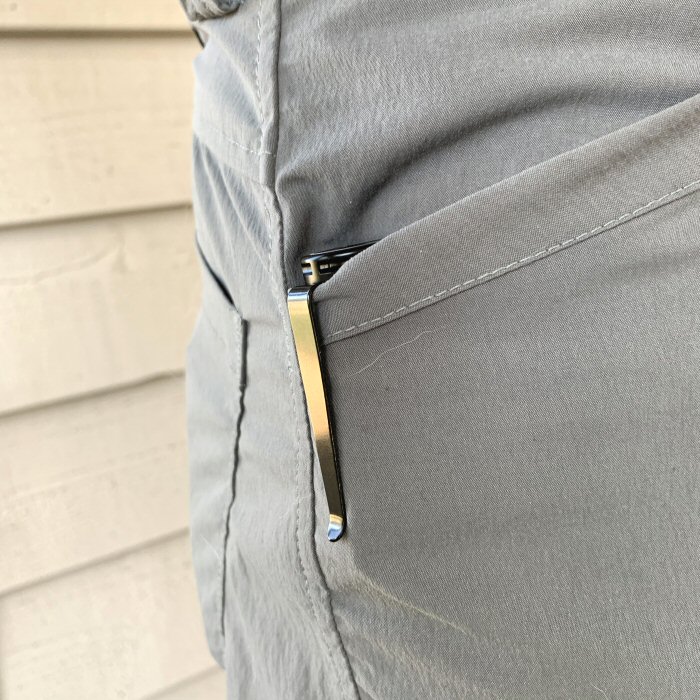 The Perun Mini's small size, compact shape, and the pocket clip combine to make this little light very handy for pocket EDC, as seen in the photo above. It quite comfortably sat in the edge of my pants pocket and was ready to go any time it was needed.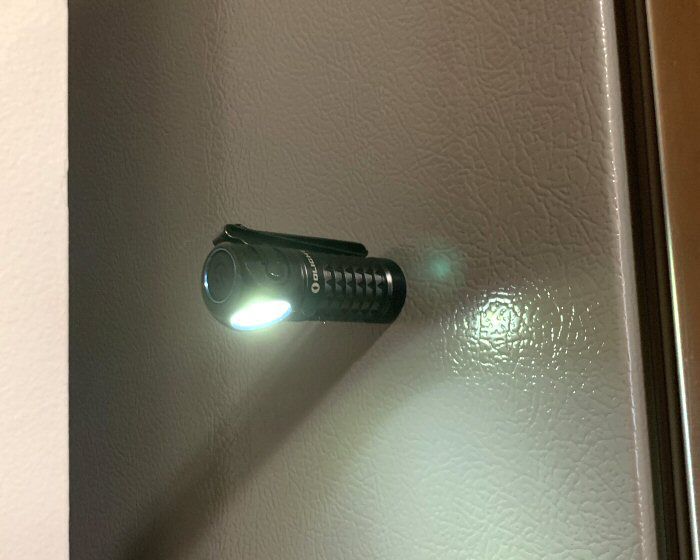 Yet another handy feature of the Perun Mini is its magnetic bottom, which does more than just help it attach quickly and easily to its mating magnetic charging base. It also allows the Perun Mini to attach to metal surfaces, such as the side of my refrigerator as seen in the image above for example. This feature can be very useful for hands-free working in a space such as under the hood of a car.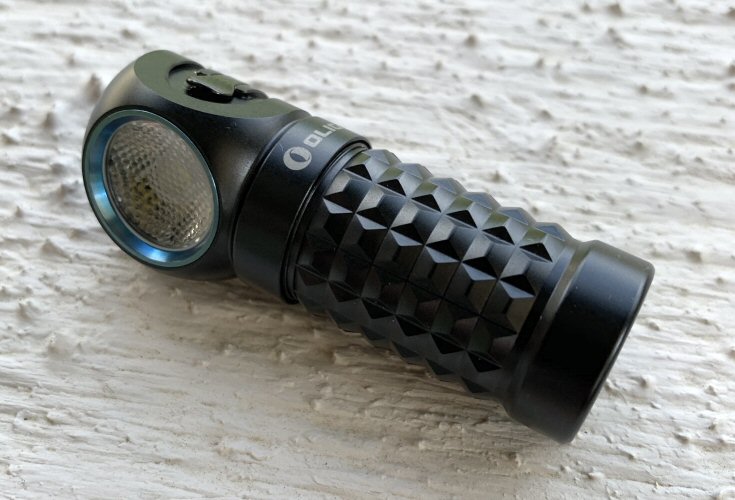 Final quick note: Perun Mini claims a 1.5 meter drop resistance and I did accidentally drop it from a height of 2-3 feet, and it was completely unaffected.
What I like
Small size and compact shape make it useful for pocket EDC
Magnetic charging base is extremely quick and easy to use
Dual-directional pocket clip is versatile
Multiple modes/light levels
What I'd change
Activation of the various modes could be somewhat confusing and a few are difficult to learn without a significant amount of practice
Final thoughts
I found the Olight Perun Mini to be a very useful little pocket flashlight. Its small size, compact shape, and dual-directional pocket clip all help make it very suited t0 pocket EDC. Its multiple models have variable brightness and runtime and are very useful, but a few of its features, such as Lockout and Timer, are a bit challenging to learn. Its magnetic tail that attaches quickly and easily to its magnetic charging base is probably its most interesting and useful feature, as it makes charging its included lithium-ion battery a literal snap. IPX8 waterproofing and its versatile Duty Patch and headband (available separately) further increase its versatility and utility. It seems a bit expensive at $64.99, but with all its features, I'd consider it as an investment and worth a look as a good EDC pocket flashlight.
Price: $64.99
Where to buy: Olight
Source: The sample of this product was provided by Olight.
Support The Gadgeteer: The Gadgeteer's main sources of revenue are advertising and affiliate links in articles like this one. Even though we may receive compensation, we always give our honest opinions about our experiences with each product.
tinyurl
is.gd
u.nu
clck.ru
ulvis.net
shrtco.de