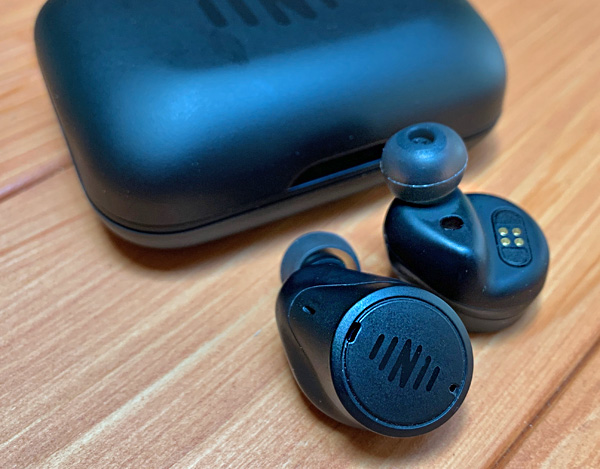 REVIEW – In 2017, the Over the Counter Hearing Aid Act was passed providing greater public accessibility and affordability with over-the-counter (OTC) hearing aids. Now, many earphone companies offer DIY hearing tests using your iPhone and an app. The results of these hearing tests allow personalized tuning of earphones, which can make them yours. The Australian company, Nuheara, was one of the first to offer a testing app with their IQbuds wireless earphones and then the IQbuds wireless earphones with BOOST. These earphones were revolutionary when they came out, but time—and competition—marches on. Nuheara has just released the new IQbuds2 Max wireless earphones and they are an improvement in every way.

What is it?
The IQbuds2 Max wireless earphones are the latest in Nuheara's line of totally wireless earphones (they call them "buds"—is that an Australian thing?) that feature Ear ID, which measures hearing levels and delivers calibrated audio to the user. They now include active noise cancelation (ANC).

Specs
Bluetooth: 5.0; A2DP, aptX
Sweatproof and water-resistant
Battery recharging: 90 min.
5 hour listening time; Total time: 15 hours with 3 recharges from case
Speaker: 9.2 mm dynamic
Hearing augmentation: Noise control, World, Directional
6 pairs of ear tips; 3 silicone, 3 Comply foam

Design and features
Since reviewing both the original IQ buds and IQ buds with Boost, I can now compare them to the new IQbuds2 Max. The first noticeable improvement is comfort. The Max earphones are more compact, so the fit feels more ergonomic than earlier IQbuds, which weren't all that comfortable after using a couple of hours. These are way better. I can wear these all day—or until the battery runs out—with no issues. Having said that, the IQbuds2 Max earphones are not the smallest earphones out there. They are still a bit on the large side, but it's not surprising considering all the tech they hold.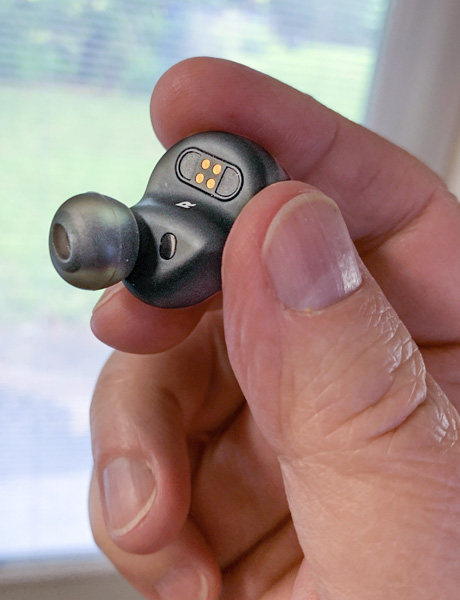 The IQbuds2 Max earphones are ergonomic in the way they fit into the ear. Place them into the ear with the ear tip in the 6 o'clock position and twist to "lock" into place. The earphone's shape holds them in place, so you can go about doing chores or exercising without them falling out. About the only thing you can't do is swim with them. They are sweatproof and water-resistant with an IP54 rating, but not waterproof.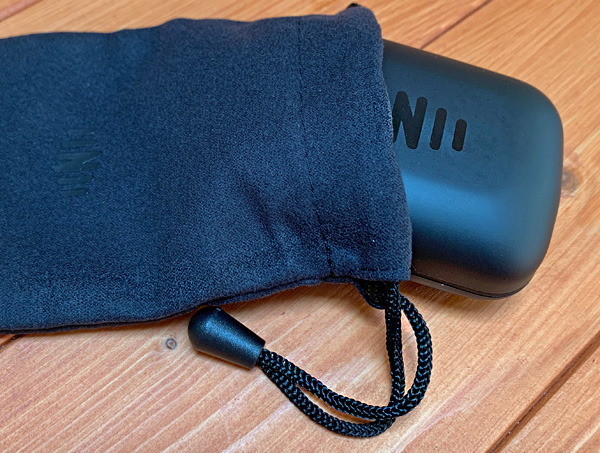 The earphone shell is matte black plastic and extremely light in weight. They come with 3 sizes of silicone and 3 sizes of Comply foam ear tips. I had no trouble finding a size that fit even though my ears are fairly finicky about ear tips. Included is a cloth bag for protecting the case from scratches.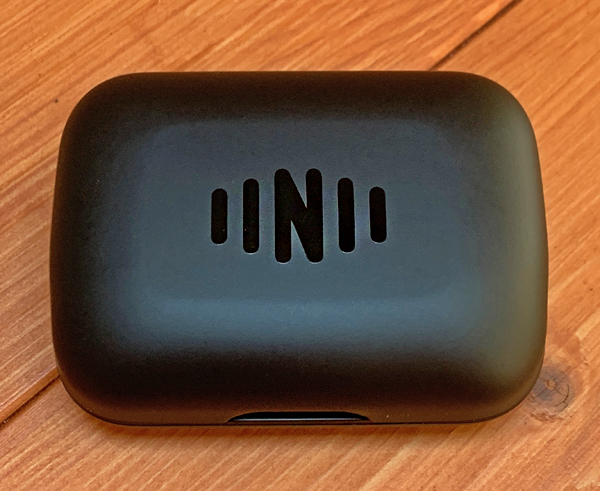 The IQbuds2 Max earphones snap magnetically into their hard case. This adds a level of security against falling out of the case as well as ensuring a solid connection for charging. The 5-hour listening rating isn't great but will get you through streaming a movie. Battery life using World On and EarID is rated at 8-hours—and that's where the IQbuds2 Max earphones shine.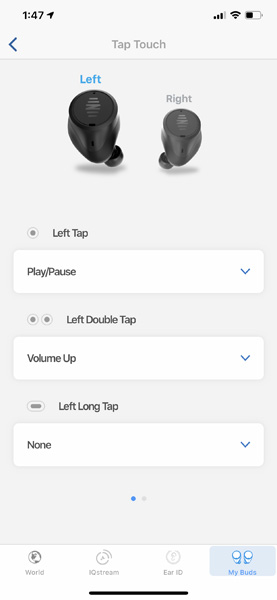 Both IQbuds2 Max earphones feature tap touch. each earphone accepts three kinds of taps: short, double, and long tap. Each tap can be set to either Play/pause, Next track, Previous track, Volume up/down, or None. All these choices can be a bit of a learning curve. I have most of the taps set to None since I rely on my iPhone for most of these functions anyway. If you are more tap-tech savvy, you can utilize every setting available. It's nice to have that choice.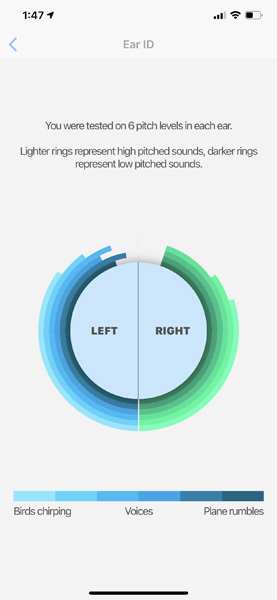 Before you first use the IQbuds2 Max earphones, Nuheara provides an Ear ID hearing test via their free downloadable app for iOS and Android. The app will not provide a hearing analysis as detailed as an audiologist would (no app can do that) but based on the test's outcome, it can tune audio to your specific needs. This can help you pick out and understand voices in a crowded environment, like a restaurant, school, or even at home. This has been my hearing issue: I can hear just fine—it's understanding what's being said that I have issues with. The IQbuds2 Max earphones help clarify what my ears hear.
Taking the app's hearing test is similar to an audiologist test (again, not as detailed). While sitting in a quiet environment, you tap the screen each time you hear the tones, which become quieter in volume, while also changing frequencies. The test results help determine where your particular weaknesses are. For instance, mine is hearing higher frequencies due to aging—a normal occurrence. The app breaks down hearing issues into six frequency levels. It turns out that my right ear has better hearing than my left.
A cool thing is that you can also take Nuheara's hearing ID test online. This way, you can see if your hearing can be improved before purchasing the IQbuds2 Max earphones first. Nuheara provides explanations about the results.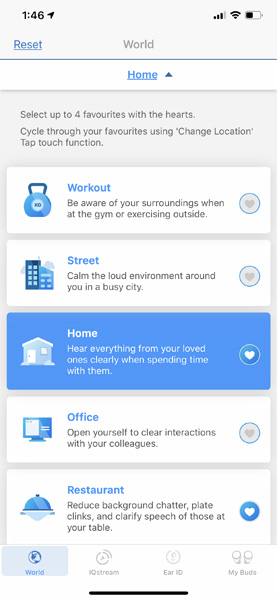 Within this app, there are a few different settings to further customize and dramatically alter the audio. These settings are grouped in what Nuheara calls World ON or OFF. When World is off, all settings are muted. When World is turned on, the following settings become available.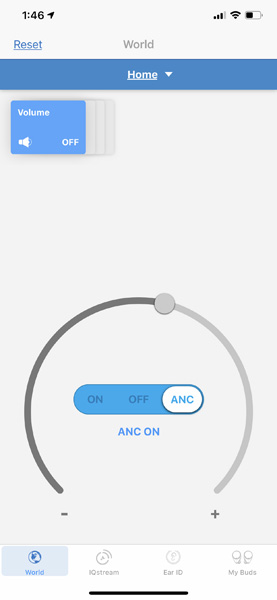 The first setting is turning Active Noise Canceling (ANC) on and off—more on this later in the review.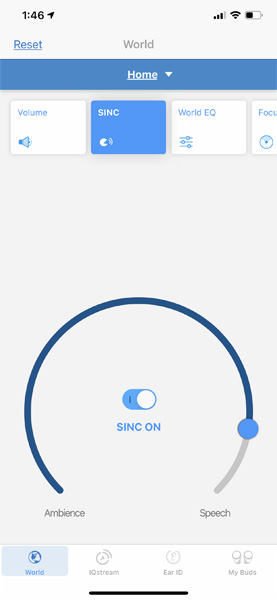 Sinc helps separate vocals from background noise. It's controlled by dialing between ambiance and speech. I always have the dial moved towards speech because it helps lower distracting background noise.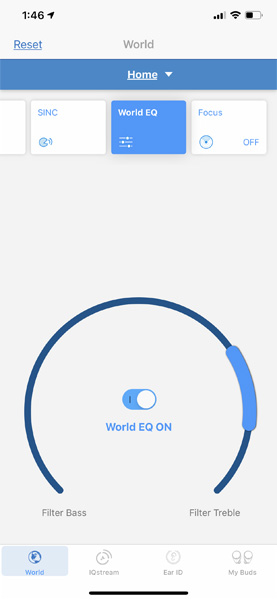 World EQ increases and decreases both bass and treble. Decreasing bass makes speech sound sharper and more clear at the expense of sounding natural. Voices take on a metallic, "robotic" quality, but are easier to understand. Decreasing (or filtering) treble allows voices to sound much more natural at the expense of clarity. So you have to dial between the two to get the right balance for your hearing. I'm a fan of less treble because to my ears when the treble is filtered more (allowing more bass), audio sounds harsher.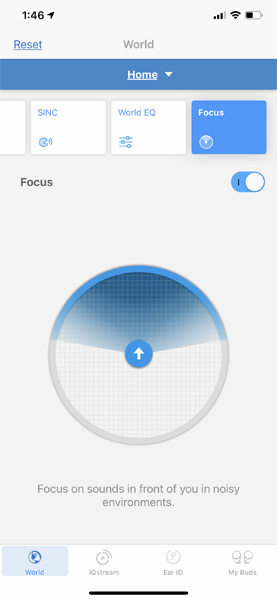 Finally, Focus narrows the field range of hearing. When left off, hearing is from a full 360°. With Focus on, the field is narrowed to an area in front of the listener. This can help accentuate the voice of people you are talking with while lowering the distracting vocals behind and to the side.
Earlier, I mentioned ANC, which is new to the IQbuds earphones. Their previous models relied on passive noise reduction only. Active noise canceling is interesting because some earphones and headphones do it better than others. Nuheara's ANC is effective at knocking out most of the "droning" hum of background noise, such as an air conditioner, fan, or car noise. I prefer Apple's ANC in their AirPods Pro earphones, but they don't do all that the IQbuds2 Max earphones do.
Note that while World On helps with hearing, it has no effect on how music sounds. Only ANC works with music apps.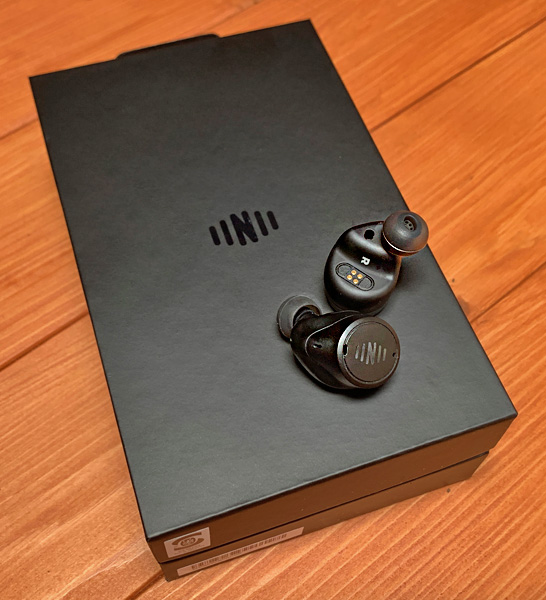 Be careful with the volume setting, especially with ANC off. If the earphones are too loud, some high-pitched feedback can be heard. This has been an issue since the first IQbuds, but it is noticeably better with the IQbuds2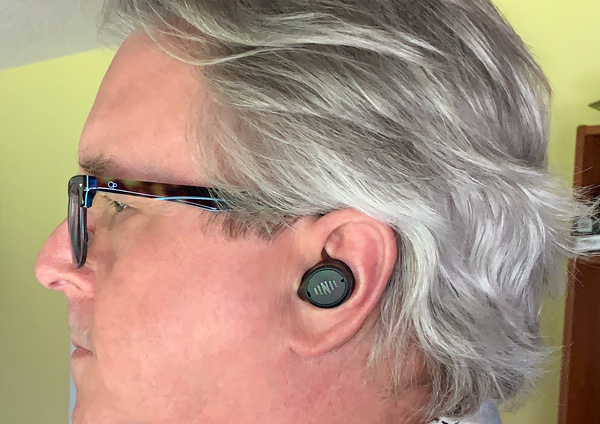 Even though the IQbuds2 Max earphones are made to enhance hearing, they make a decent pair of earphones for music listening. The large 9.2 mm diameter dynamic speaker sounds fairly balanced between frequencies. Bassheads may be disappointed, but since these earphones' purpose is hearing, the added accuracy of music reproduction is welcome. I could listen to music all day with these, from a comfort standpoint and musical quality—if the batteries lasted all day, that is.

What I like
Comfortable
Great audio customization via App
Effective ANC
Clarifies vocals
Filters out background noise
What I'd change
Expensive
Audio feedback sometimes happens
Battery life isn't as good as previous (and less expensive) IQbud Boost

Final Thoughts
The Nuheara IQbuds2 Max earphones are an improvement over the original IQbuds and also the iQbuds Boost earphones—especially in comfort. While battery life may be limited when compared to other earphones, the improvement in hearing and clarity coupled with musical accuracy makes them worth considering for those of us with auditory issues.
Price: $399 US
Where to buy: Nuheara
Source: The sample of this product was provided by Nuheara.
Support The Gadgeteer: The Gadgeteer's main sources of revenue are advertising and affiliate links in articles like this one. Even though we may receive compensation, we always give our honest opinions about our experiences with each product.
tinyurl
is.gd
u.nu
clck.ru
ulvis.net
shrtco.de