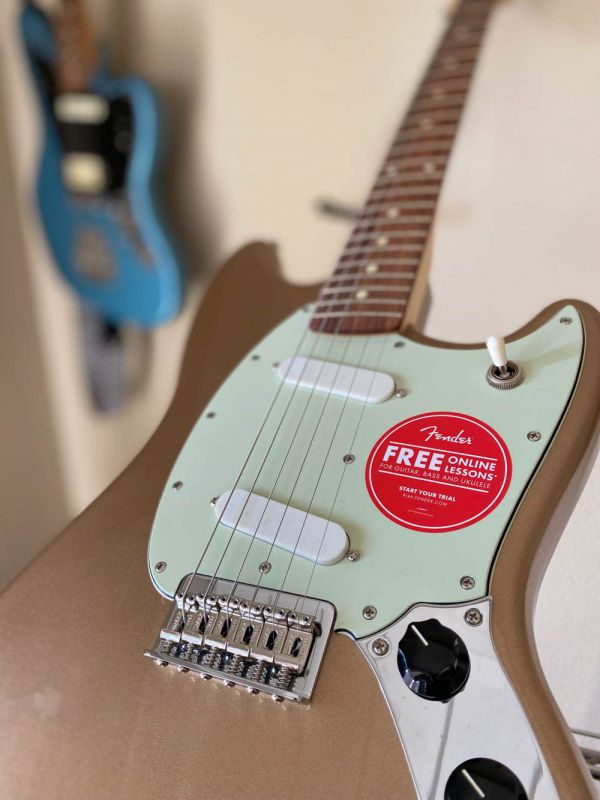 REVIEW – What's something on your bucket list that you can tackle without traveling? What's that? You said you'd learn to play guitar, bass or ukulele? Well, Fender's Play app can help you cross that one off in whatever time increments you can devote. Fender was gracious enough to not only give us access to the app, but also loan us a guitar to use while we put the app through its paces. Let's take a closer look at both.
What is it?
Fender Play is an online course that will teach you the basics of guitar, bass or ukulele. The step-by-step lessons are led by knowledgeable instructors assisted by clear videos, visuals and tablature resulting in clear information you can absorb on your own schedule without any judgement.
What's in the App…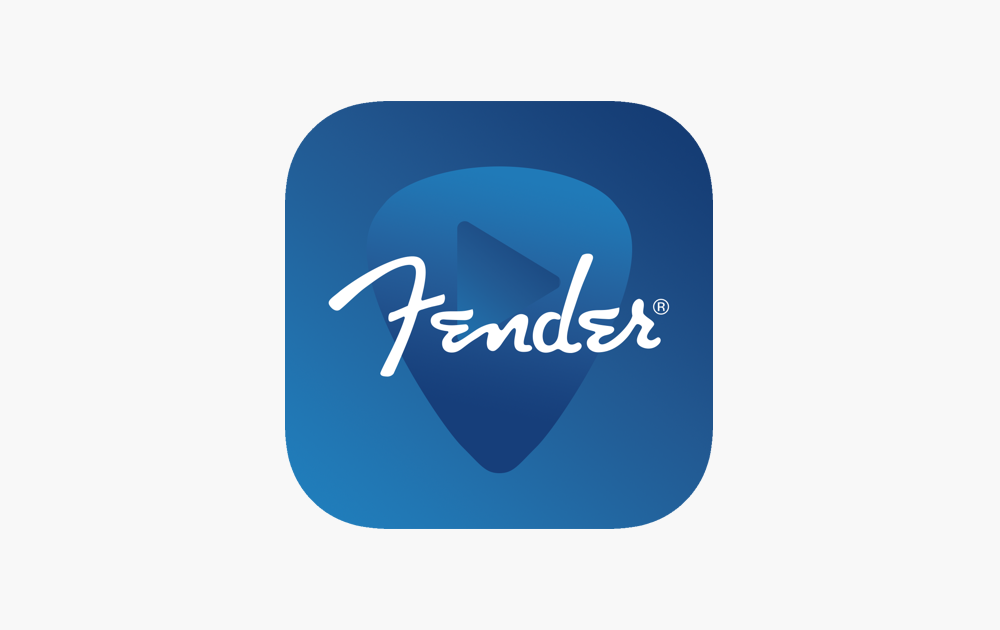 Download the Fender Play app (you can find it in Apple App Store or on Google Play)
Free trial (cancel anytime)
Special offer – Get 10% off guitars, amps and gear
And in the loaner box?

A Fender Player Mustang guitar
Hardware specs (guitar)
24" scale length; "C"-shaped maple neck
Two Mustang single-coil pickups
9.5"-radius maple fingerboard with 22 medium jumbo frets
Six-saddle string-through-body hardtail Strat® bridge with bent steel saddles
Master Volume and Tone controls; three-way pickup switch
Design and features (app)
The app is laid out with different paths for you to follow.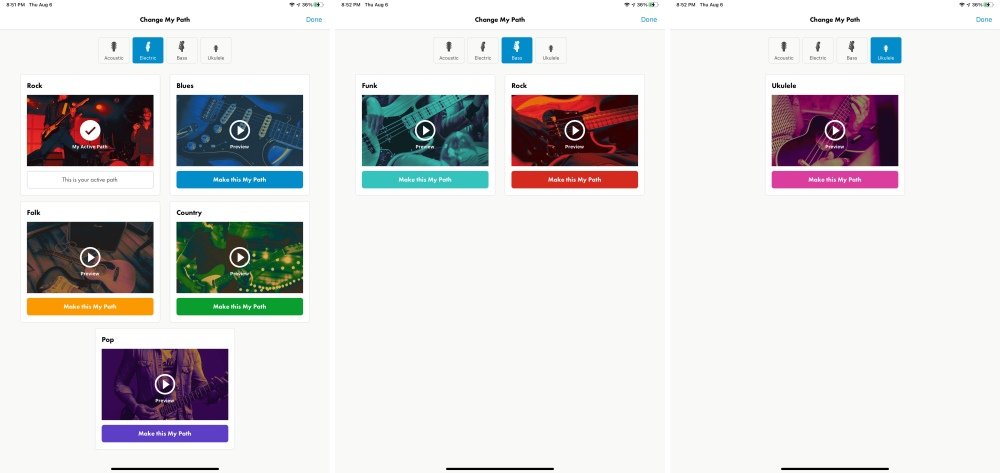 You can choose from…
Acoustic or Electric Guitar with focuses on Rock, Blues, Folk, Country or Pop
Bass Guitar with focuses on Funk or Rock
Ukulele
Inside your path there are 5 levels for you to progress through, each with up to 21 courses. Each course has a number of lessons and/or practice modes with videos, charts and/or tablature to follow. Here are screens from Level 1 and Course 1 for Bass.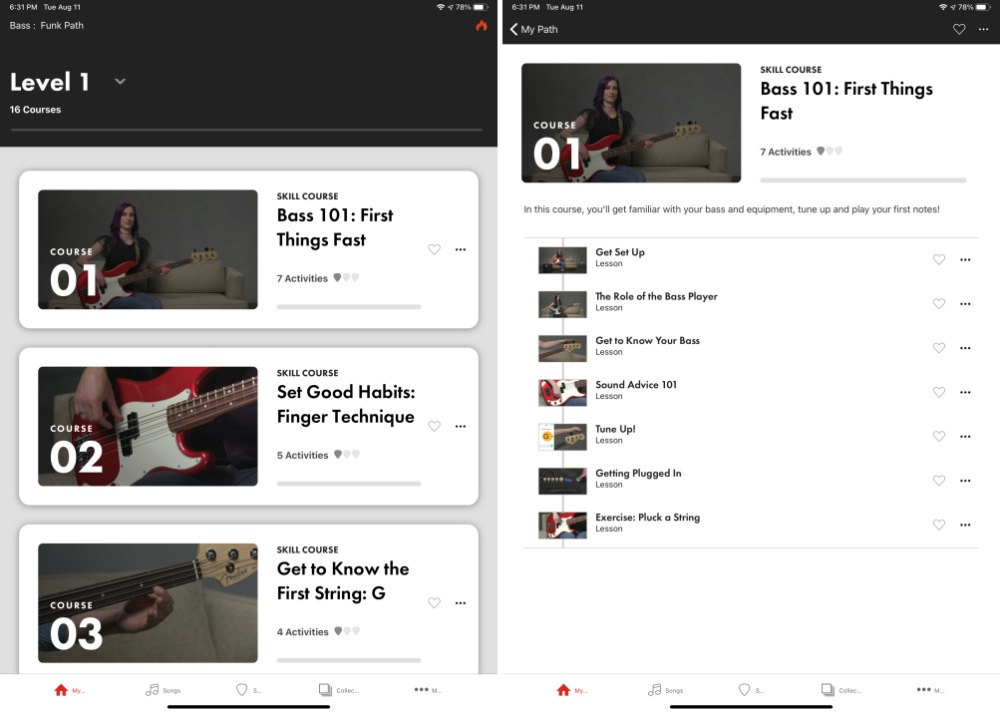 Level 1 / Course 1 for guitar starts off with basics on how to hold and tune your guitar along with string basics.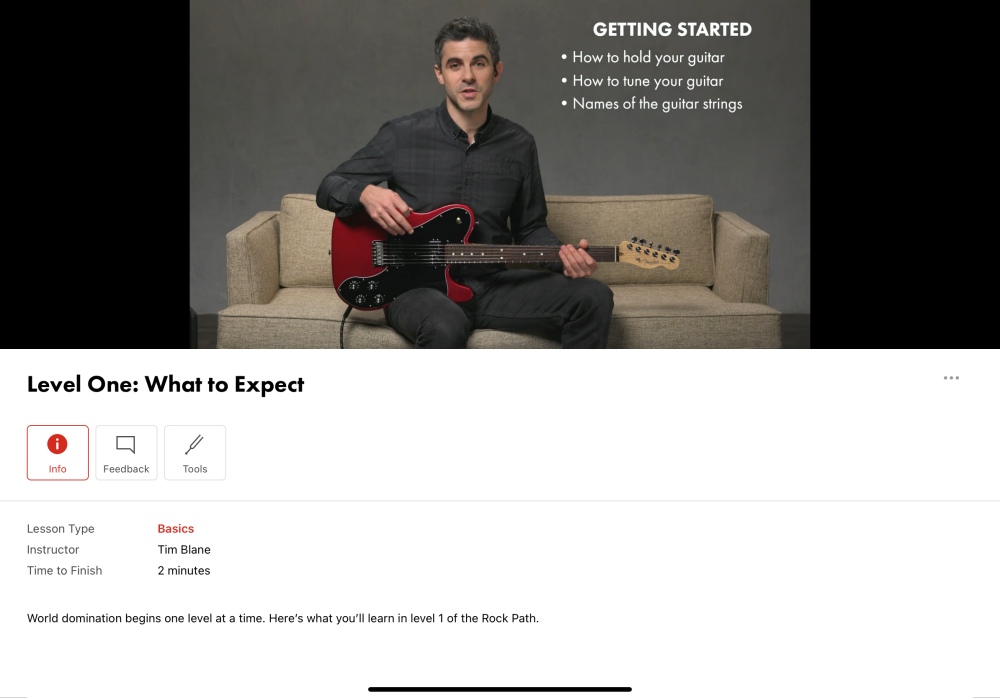 All along the way you are taught by talented musicians that speak clearly and provide all the information needed for the lesson at hand. You are free to pause and rewind and absorb at your own pace as you progress towards becoming a player.
Setup (app)
All you need to do is download the App and dive in. We loaded it up on my iPad Pro and my daughter's iPhone SE. If you'd rather learn in front of your computer, you can also log into the service from a browser.
From there you'll need to choose which instrument you want to learn or "A Path" in the app. We chose electric guitar to go with the beautiful Player series Mustang guitar that Fender loaned us.
If you don't have an instrument yet, the initial lesson for a path will walk you through an instrument type calling out the different parts, functions and vocabulary. You'll obviously need a guitar, bass or ukulele to actually start playing, but your new knowledge should prove helpful in discovering what you might be looking for. Not all of us have that one friend with too many guitars, so check with your local shop as many may allow rental dollars to go towards an eventual purchase.
Performance (app)
The thing about learning guitar always used to be finding a good teacher (friend, dad or instructor) and then working music you actually like into the lessons. If either of those weren't quite right it made lessons tedious, frustrating or both.
The Fender Play app solves the good teacher part of that equation from the get go. Within the guitar path, instructors rotate out from course to course for some variety, with all of them being easy to understand and as patient as I need them to be (I have a pause button after all).
The below shot shows how clearly they show finger positions for chords. Compared to how I originally learned from just a paper chord chart, it's really nice to have a clear image of proper finger and hand positioning. I realize that I sound old in the age of YouTube where one can find instruction on anything under the sun, but everything is here in a single, curated place with a progression order that is thought through and content that is age appropriate for everyone.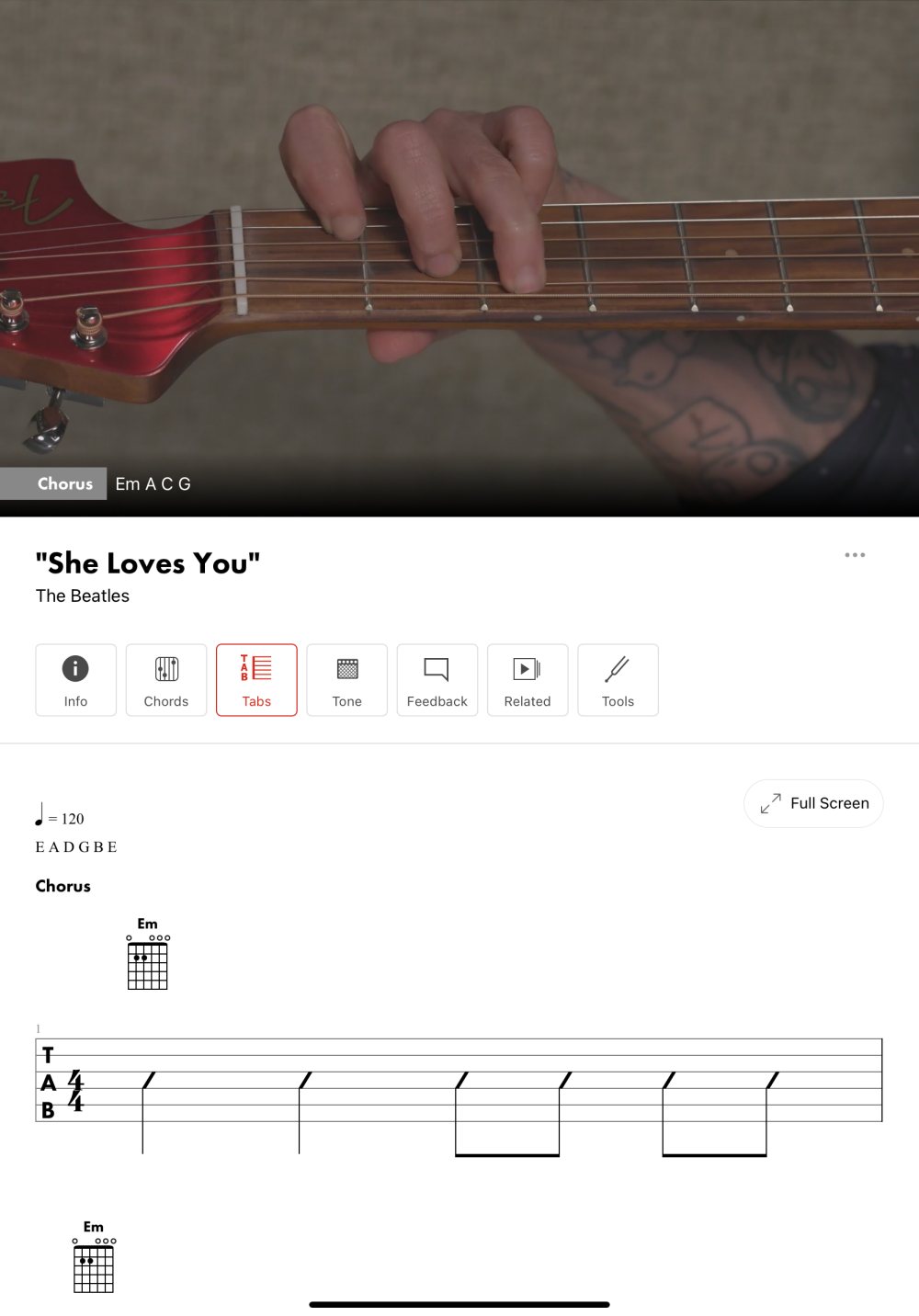 On the music side the simplified versions of songs within the Rock path were great fits for me and ones I would pick from a list if given the option. There are typically 4-5 five songs per level, but here are some stand outs.
Level 1 includes great songs like Satisfaction by the Rolling Stones and Come As You Are by Nirvana.
Level 2 has Judas Priest's Breaking the Law and Bad Moon Rising by Creedence Clearwater Revival among others.
Level 3 serves up a few like the classic Louie Louie by The Kingsmen and Weezer's Buddy Holly.
Level 4 rocks with Carry on Wayward Son by Kansas and White Wedding by Billy Idol.
And Level 5 finishes strong with ZZ Top's La Grange and Purple Haze by none other than Jimi Hendrix.
You'll start with tuning and single note melodies with visuals and tablature before learning simplified chords and chord charts. As you move along, the difficulty ramps up as you're ready to take on more. You're able to repeat lessons and sections as much as you want. Your progress is kept by the app should you switch devices or even take a few days off, letting you start back in right where you left off.
If you've dug into any of my previous music device reviews you may be aware that my son has been playing jazz guitar for nearly 1o years while I'm more of a three-chord punk type guy. My daughter Talula learned some chords and a couple of songs from Satch but has not had any other instruction, so she volunteered to dive in and give Fender Play (and the Mustang) a good run through.
My own sessions with Fender Play were fun. While the first intro courses covered all the stuff I already know, I appreciated the content and the pace with which it was delivered. I learned the string names from knowing music theory as a vocalist, but the high-to-low string mnemonic the app used… Easter Bunnies Get Dizzy At Easter definitely had me laughing.
You're able to change the playback speed in the practice sessions which is super useful if full pace is too fast at first. As a new player it takes some time to start developing muscle memory and finger dexterity.
You can change paths for either instrument or genre at any point by clicking the "Instrument: Genre Path" header in the top left. After selecting a different instrument and/or a new genre's "Make this my path" you have to click "Done" in the upper right to make your way back to courses.
Here's what the tablature looks like for Hit Me With Your Best Shot by Pat Benatar (Level 4), as you practice along.
And here's Talula playing what she learned. Fun part is that she said this isn't a song she would have picked herself, but she digs it and is glad she learned it.
I also asked Satch to take a quick look at the App. He spent about an hour with it and gave me a "this is pretty Good!" nod, commenting that the Rock path difficulty was pretty mellow, but Level 5 on the Blues path felt a good deal more complicated in the higher levels.
The app also isn't just course progression. On the bottom nav bar, there's a ton of Songs to dig into, a Skills section for continuing to learn, Collections for almost any interest (Crash Course: Punk Rock!) and a More… section where you can manage your account, set practice reminders and more.

How about that guitar?
If any of you were wondering about the loaner guitar, this section's for you. Here's some pics of this beauty. It's a Player series Mustang in a Gold Mist metallic color made from Alder with really comfortable curves and radii. The body has a bit more of a traditional shape than Jaguar we reviewed almost two years ago.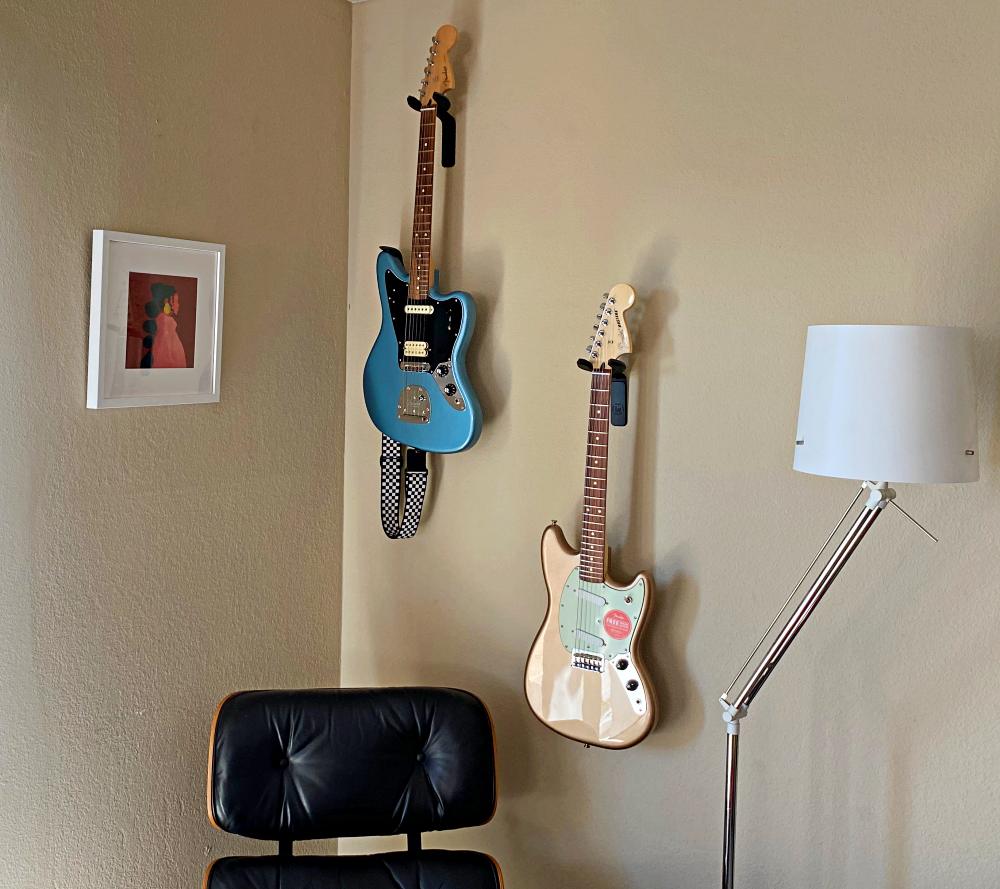 The headstock is the same sporting chrome tuners and a string tee for the High E and A strings.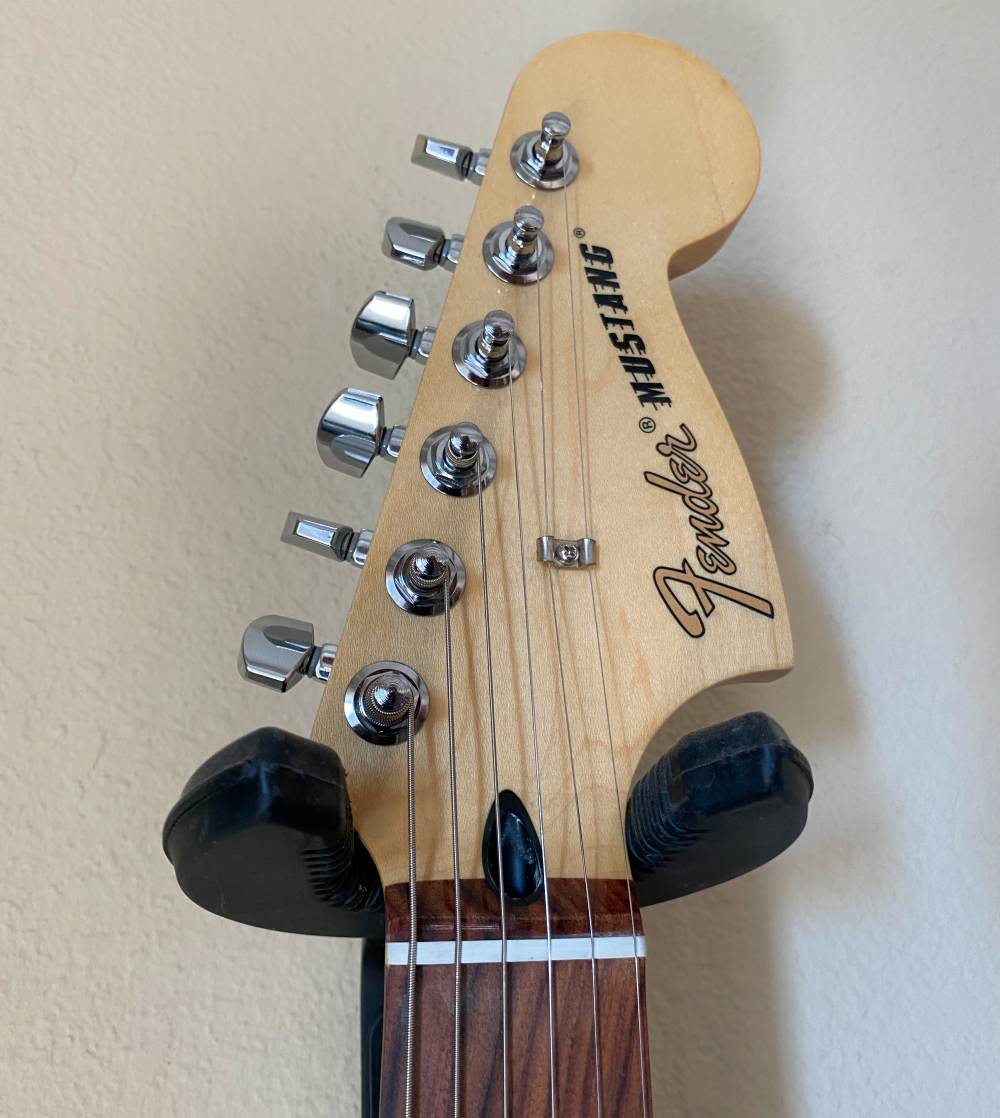 The neck is Maple with jumbo frets, a 24″ scale and a comfortable 9.5″ radius on the fingerboard. Both the bridge and neck pickups are Mustang single coils with a 3-position switch for selection duties.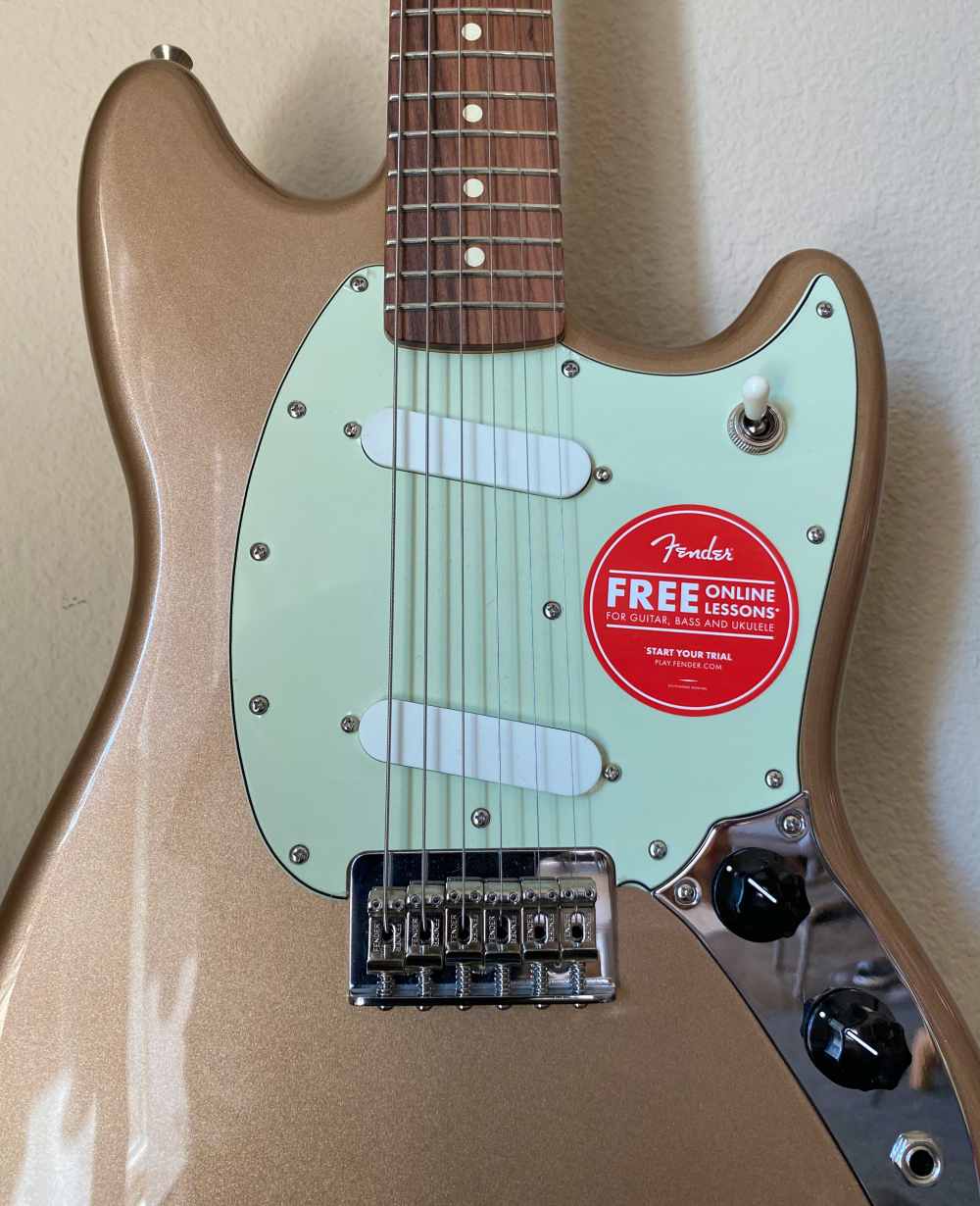 The hardtail, string-through-body body bridge keeps things locked down and increases sustain. Normally I would have removed the sticker and pick guard protective layer, but left them on since this is a loaner after all.
What I like
APP
Free trial and bonus 10% discount on instruments, amps and gear
Evenly paced lessons that cover the basics and get you playing
Great selection of genres, bands and songs
Guitar
Easy to tune and play, good neck shape
Affordable and great for beginners to hacks like myself
What I'd change
(App) I'd separate the instrument from music genre path as you're more likely to jump between genres
Not much else
Final thoughts
The Fender Play App is a great resource for players of any level. It's definitely aimed at newcomers but there's plenty to dig into for someone like myself that just learned what I learned and didn't get all the foundation. With a free trial period, it's really easy to jump in and give it a shot. Now which one of your friends has a guitar you can borrow?
Price: $9.99 per month (app) | $599.99 Player Series Mustang® guitar
Where to buy: Fender Play | Fender.com
Source: The sample of this product was provided by Fender
Support The Gadgeteer: The Gadgeteer's main sources of revenue are advertising and affiliate links in articles like this one. Even though we may receive compensation, we always give our honest opinions about our experiences with each product.
tinyurl
is.gd
clck.ru
ulvis.net