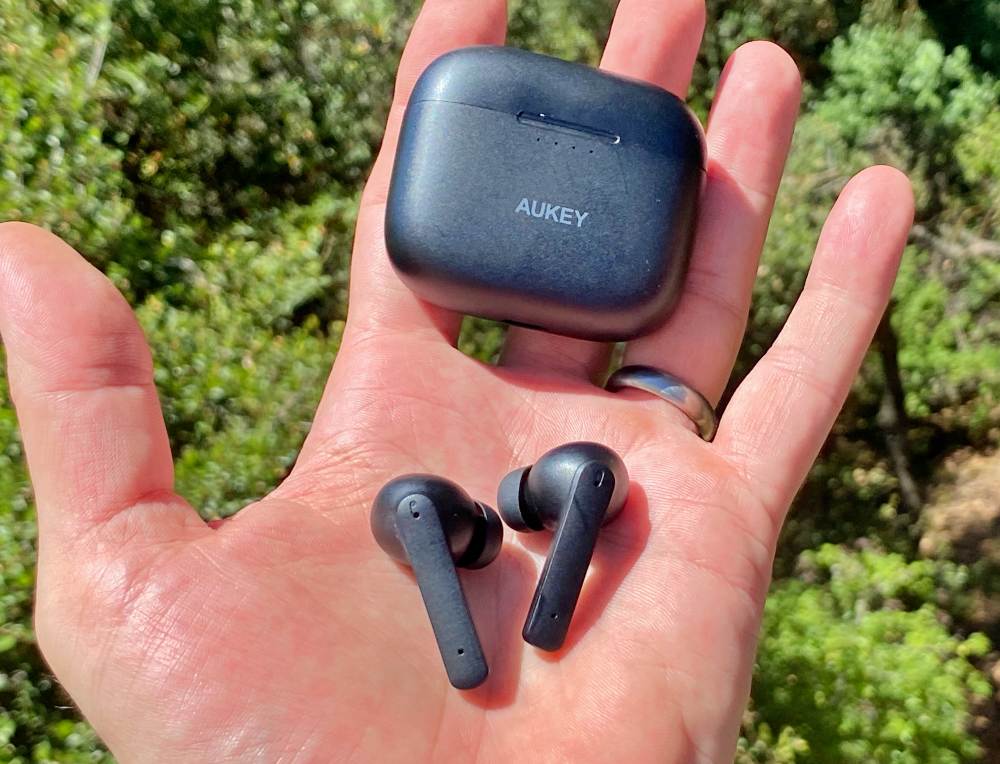 REVIEW – Have you splurged on a pair of fully wireless earbuds yet? If you find a pair that works well for you it's hard to go back. I jumped in with the original AirPods even though they did not fit in my ears at all. It's since led me down a rabbit hole of brands and models searching for good options at multiple price points as I do get asked frequently what someone should try. Most frequently, it's when there's a limited budget in play. Enter the EP-N5 earbuds from Aukey. At just $60, could these be the buds you're looking for?
What is it?
Aukey's EP-N5 earbuds are wireless left and right earbuds (no cable) with active noise cancellation and a battery equipped storage case so they're ready to rock when you need them.
What's in the box?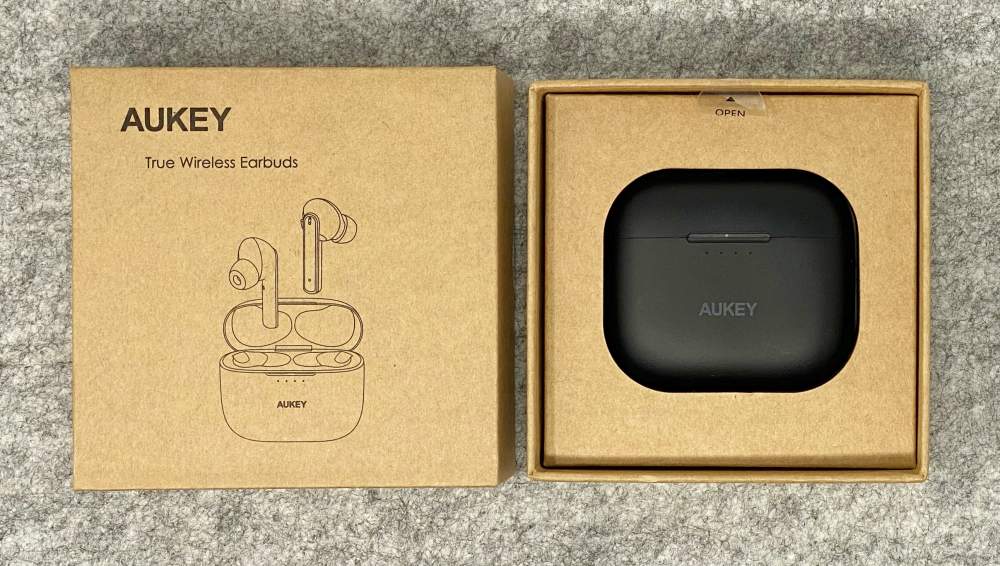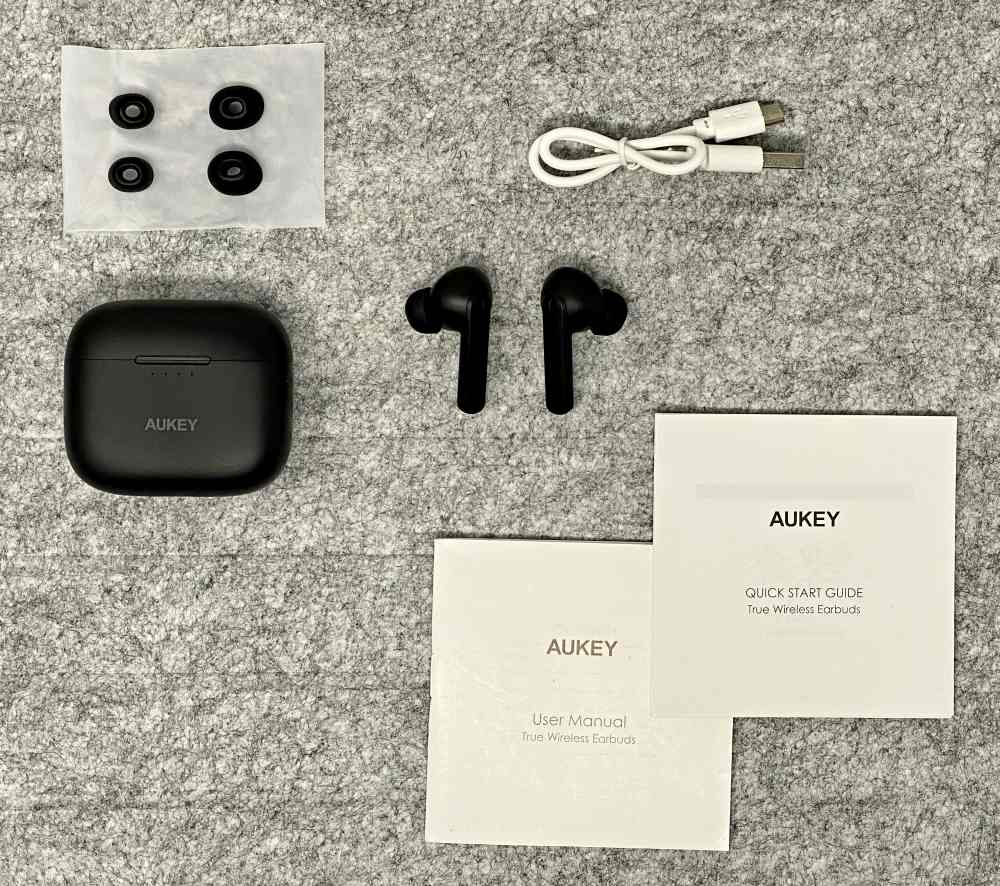 L and R earbuds
Storage case/battery
S, M, L ear tips (M pre-installed on earbuds)
USB-A to USB-C cable (incorrect cable shown in photo)
Manual and Quick Start guide
Hardware specs
Tech: BT5, A2DP, HFP, HSP, AVRCP
Drivers: 10mm speakers | 101dB ±3dB sensitivity | 20Hz – 20kHz frequency range | 32 ohm impedance
Microphone: Mems mic | -42dB ±1dB sensitivity | 200Hz – 5kHz frequency range
Battery: Li-Ion | Up to 7hrs listening (ANC off) – 4.5hrs (ANC on) | 1.5hrs quick charge time for case
Design and features
The case is as much a part of the product as the earbuds themselves. It's comfortable to hold, fun to fidget with and charges the earbuds whenever they're returned to the case.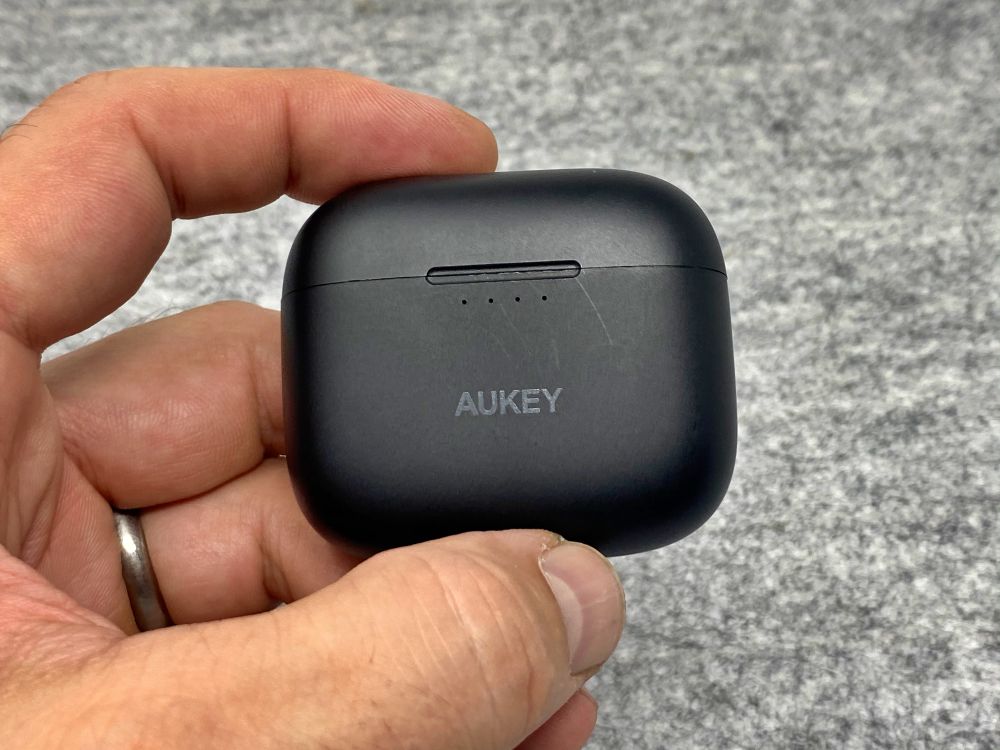 The earbuds are left and right specific with interchangeable ear gels for adjusting the fit.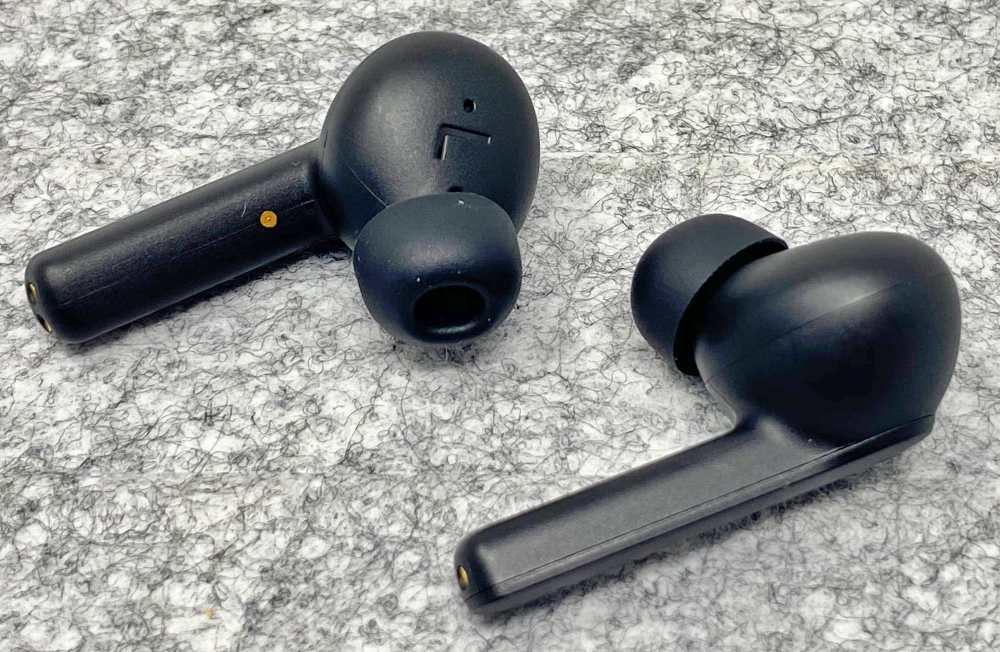 At the bottom of each stem are the charging contacts which let them top-off their batteries when stored in the case.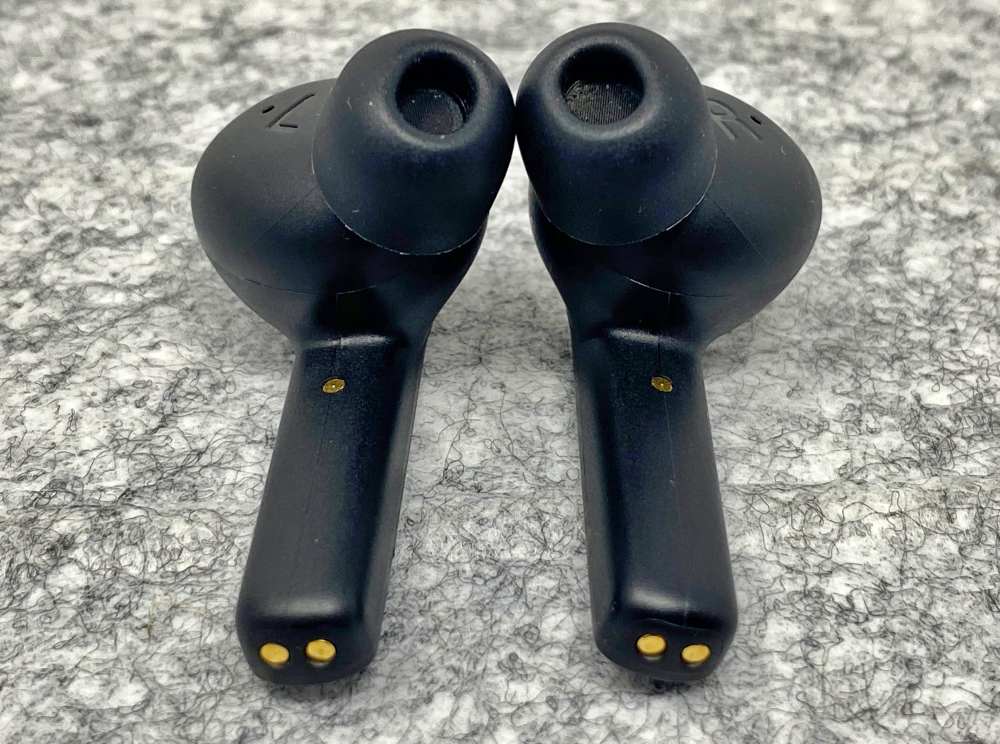 The cavities in the case are also earbud specific. Left in left, right in right.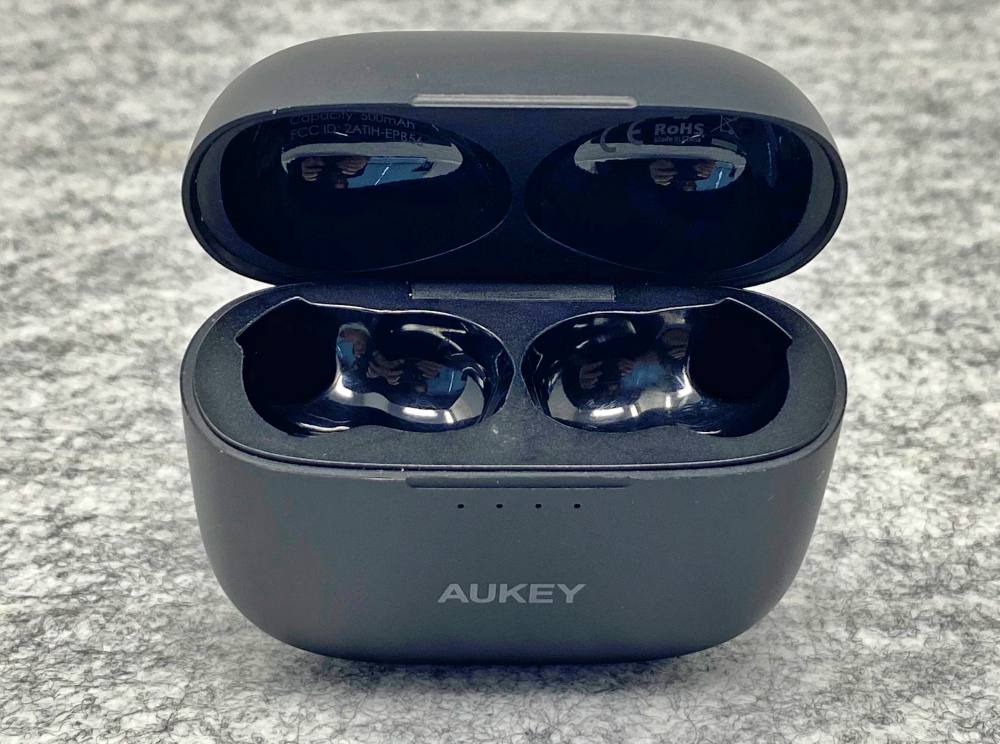 Stealthy hiding spot for the certification and model info.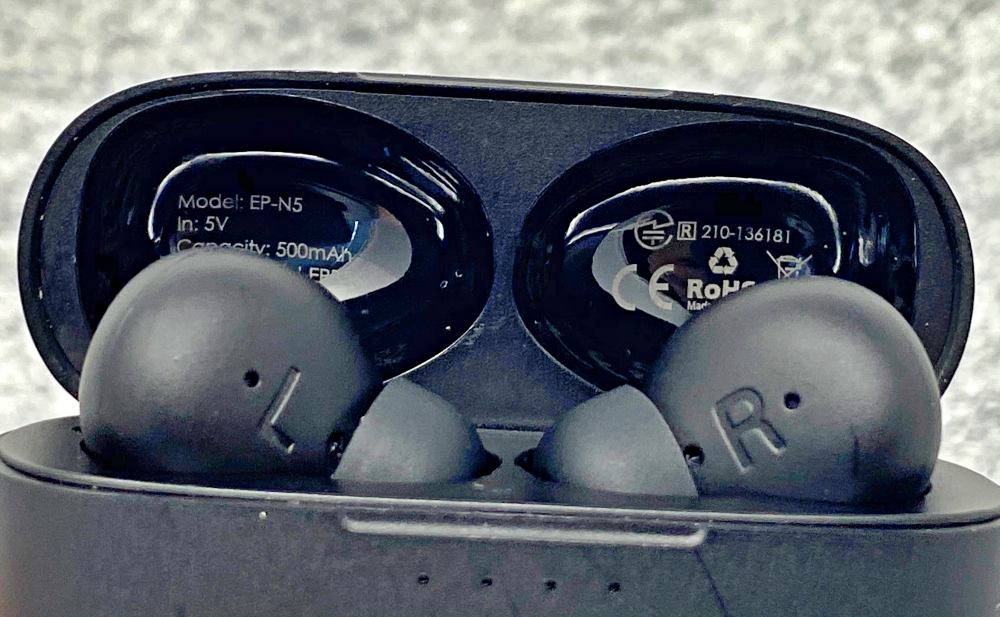 Every time you open the case you'll get a status update on the battery level of the case via these handy LEDs. It's basically a fuel gauge and as long as one of them is lit up the earbuds inside will have been charged.
Setup
Open up the packaging and extract the charging cable and charging case (earbuds are inside). Connect it all to power and make sure you start with a full charge.
To pair the earbuds, open the case and remove the right and left earbuds. They will immediately pair with each other and then the right earbud will begin to flash between green and red. Open the Bluetooth settings on the device you want to pair and select AUKEY EP-N5 from the list of available devices. You're set.
To connect to another device, you'll need to be outside the range of any currently connected device, or you'll need to turn Bluetooth off on that device before proceeding. In a worst case scenario, you can take out the right earbud, press and hold the touch panel for 10 seconds until it flashes red. This clears all pairing history. Return the earbud to the case and remove it again to pair it.
Once paired, the earbuds will automatically reconnect to the last device used. Use device controls to switch between devices. When batteries in the earbuds start to run low, return them to the case for a quick charge.
If you want to run a single earbud, you'll need to use the right one. The left earbud pairs with and gets its data from the right so it can't work on its own.
As for in-use controls, they're pretty straightforward.
MEDIA CONTROLS
Play / Pause – Single tap (either earbud)
Rewind / Previous Track – Double tap (L earbud)
Fast Forward / Next Track – Double tap (R earbud)
Active Noise Cancellation – Press and hold 2 sec. (R earbud) to toggle
PHONE / VIRTUAL ASSISTANTS
Answer inbound call – Single tap (either earbud)
Hang up / Reject inbound call – Press and hold 2 sec. (either earbud)
Voice Assistant (Device) – Triple tap (either earbud)
Performance
I put the EP-N5s through all the functional tests and then handed them off to my wife who's been using them for a full month now. Like me, she wears prescription glasses or readers with her contacts when at the computer so she had been looking for a new set without an ear hook for ease of use in addition to exercise needs.
For her, some of the stand out features were…
the LEDs on the case light up whenever you open the case so you can quickly see case battery status
ability to use the right earbud by itself (did not have an issue with wanting/needing to use the left)
they fit well with the medium ear gel and stay put during exercise (running, Peloton, etc.)
small enough case to fit in jean pockets (note for guys: women's pockets are ridiculously smaller, if not fake pockets in some cases)
good sound with a bit more bass
She had one issue pop up a couple times where the left earbud would get out of sync a bit. It fixed itself after 10-15 seconds mostly, but once she had to return the earbud to the case to kick it into gear. It looks like this might be specific to pairing with our Peloton bike as that's the only place it's happened.
Here are some of my notes while using them…
The ANC is pretty good, reducing external noise about half. Toggling on has kind of an up-chime and a down-chime when turning off. Don't try to switch ANC on (or off) while on a call as the 2 second R earbud trigger will hang up your call.
The earbuds are slightly on the light side. This gives them a bit of an inexpensive feel, but also helps them stay put in your ears. Here' how they sit in my ears.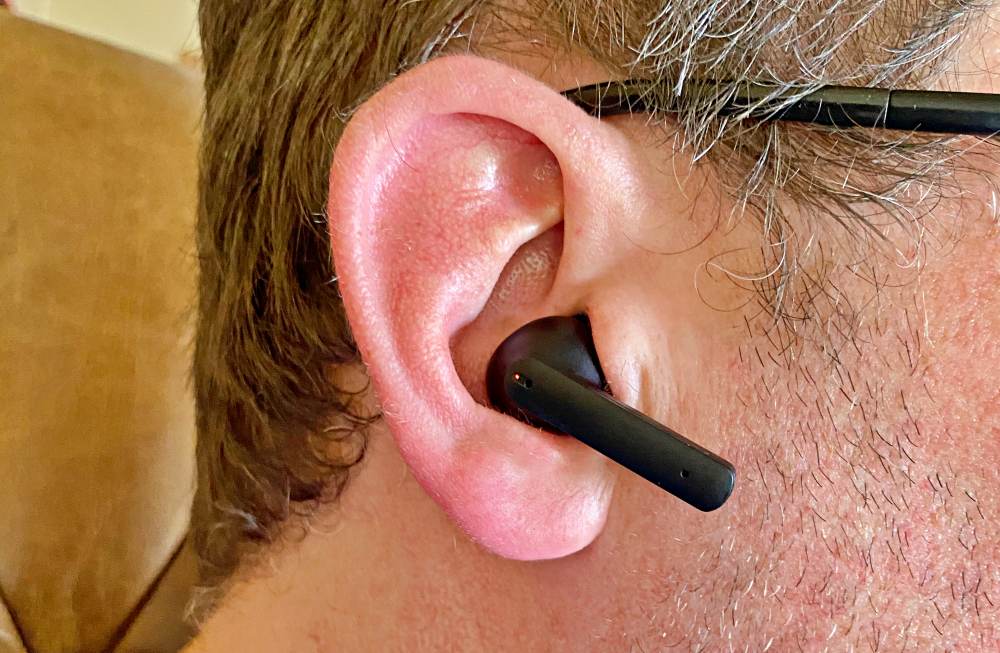 I liked how they stealthily placed all the model and certification information on the inside of the top lid. Tricky move; well played.
The plastic used on the earbuds and case shows scuffs and scrapes pretty easily. Not a big deal, especially in this matte black color, but you should be aware. You can see some of that in this photo.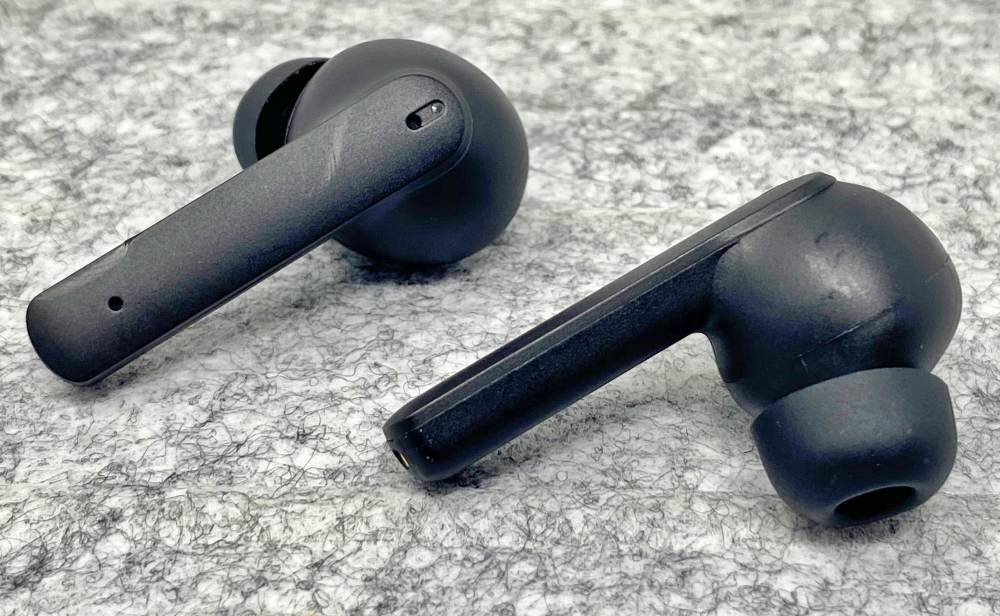 The earbuds auto paired back to the phone reliably, but they did require a bit of a settings hoop jump after pairing them to the spin bike display or living room TV as they'd return to those devices on the next launch. Again, not an issue, but something you'll learn the dance for quickly.
Making calls seemed to work without concern. Aukey says each earbud has dual mics for voice pickup and ambient noise rejection. I did have one person tell me I sounded a bit digital, but I'd chalk that up to network congestion these days.
Both the case and the earbuds charge quickly. Less than 2 hours for the case, and the earbuds always just seem charged as they come out of the case ready to go.
What I like
Sizes – Earbuds themselves, to the ear gels, to the storage case – All fit and are sized appropriately
Sound – A little bit more bass than some other buds, nice and full
Noise cancellation – Knocks down noise by about half
$60!
What I'd change
Be able to use Left or Right individually
Add a physical button to force pairing
Final thoughts
For $60 there is a lot of sound and performance here. The case is small and keeps the earbuds charged. The different ear gels allowed for a solid fit, keeping the buds in place and helping the already good bass response. USB-C charging is great and much preferred over micro for me. The Aukey EP-N5s are my new recommendation for anyone looking for true wireless earbuds under $75.
Price: $59.99
Where to buy: Amazon
Source: The sample of this product was provided by Aukey
Support The Gadgeteer: The Gadgeteer's main sources of revenue are advertising and affiliate links in articles like this one. Even though we may receive compensation, we always give our honest opinions about our experiences with each product.
tinyurl
is.gd
u.nu
clck.ru
ulvis.net
shrtco.de