Tomatillo Salsa-you only need 6 ingredients to make this easy blender salsa. It is a perfect match for tortilla chips, tacos, burritos, quesadillas, enchiladas, and more!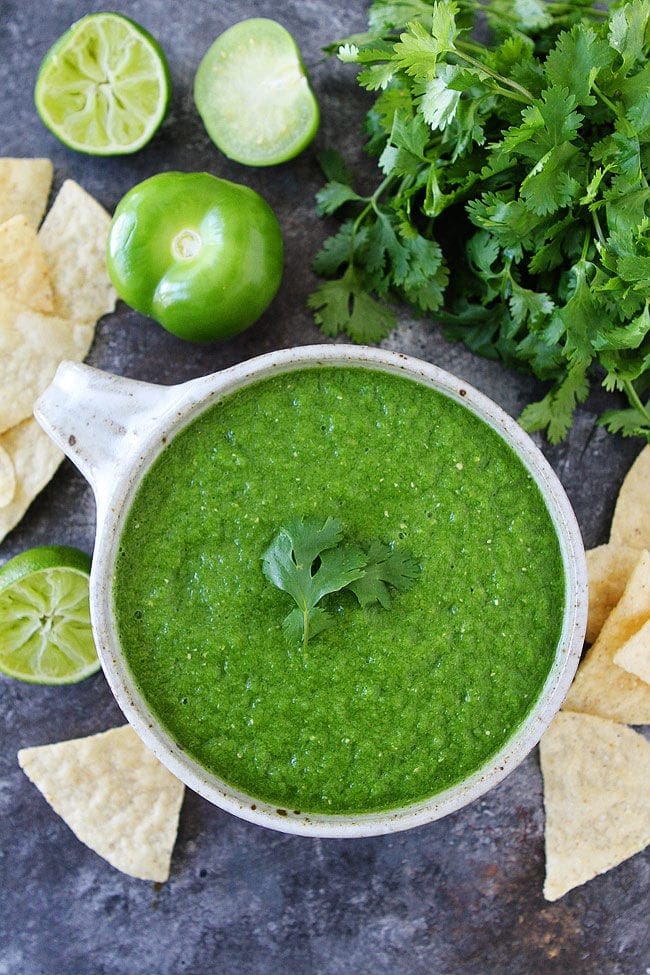 Tomatillo Salsa, sometimes called salsa verde, is one of our favorite salsas to make during the summertime, along with pineapple, peach, and mango salsa! We love making salsa!
While most salsa verde recipes call for roasting or charring the tomatillos first, this raw recipe is much easier and preserves the tart flavor and bright green color of the tomatillos. The flavor is a little more sour, but so good with salty tortilla chips and all of your favorite Mexican dishes.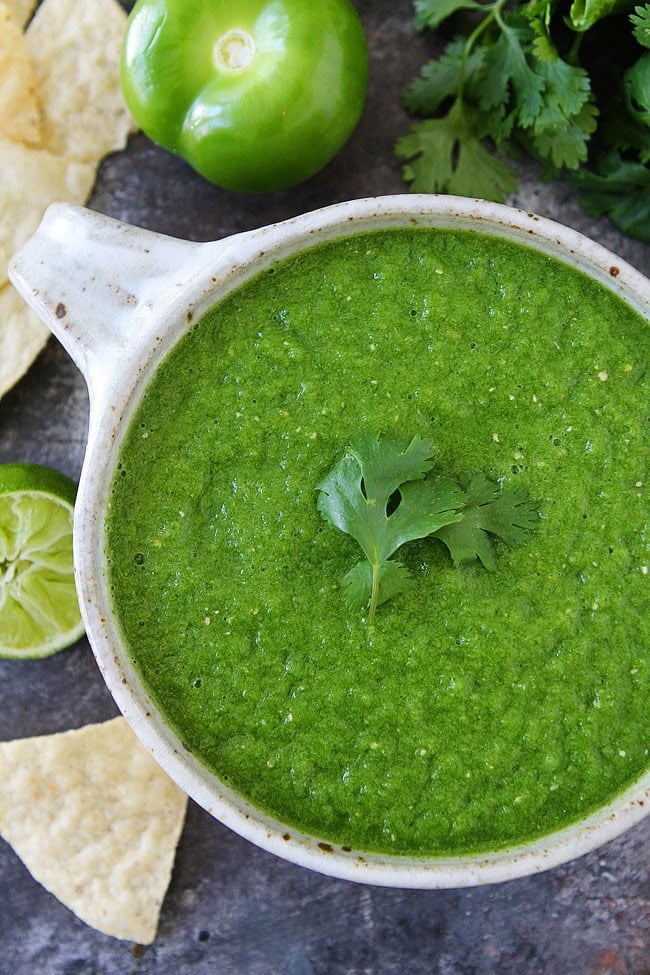 Tomatillos
Tomatillos are the star ingredient! You can find tomatillos at most grocery stores in the produce section. They look like small green tomatoes, but have a husk around the outside.
Look for tomatillos with a husk that covers most of the fruit. Make sure the husks aren't torn or damaged. The husk should be relatively tight, and the fruit inside should be firm, but not rock-hard. If the tomatillos are squishy, they are over ripe.
Tomatillos can be eaten raw, they are a little tart and have a sharp flavor. When roasted or grilled, their flavor mellows out and the flavor is a little sweeter.
How to Peel Tomatillos
To remove the husks, simply peel them back from the smooth green skin. Make sure you wash the green flesh to get rid of the sticky film left by the husks.
Fresh Tomatillo Salsa
If you prefer a tart salsa, you don't have to roast the tomatillos. Place the tomatillos, onion, garlic, cilantro, lime juice, and Serrano chiles in the blender and blend! Season with salt and pepper and you have the most amazing fresh salsa!
The color will be super bright green and you will want to grab a bag of tortilla chips and start dipping ASAP!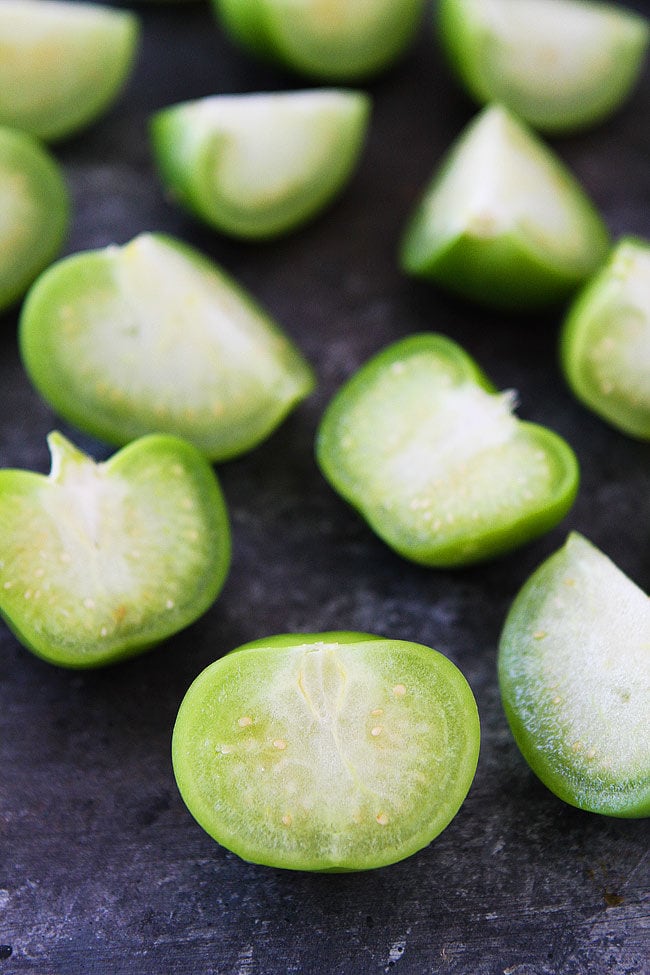 Roasted Tomatillo Salsa
If you want to make a roasted salsa verde, you can roast the tomatillos before blending.
Preheat the broiler.
Line a large baking sheet with foil. Cut the tomatillos in half and place cut side down on a baking sheet.
Place the tomatillos under the hot broiler for 5 to 7 minutes or until the skins are lightly blackened.
Let cool to room temperature before blending.
Serving Suggestions
Serve the tomatillo salsa with tortilla chips, tacos, burritos, quesadillas, taquitos, enchiladas, tostadas, use it as a dressing for taco salads or burrito bowls…the options are endless!
This easy Tomatillo Salsa is going to be a staple in your home! You can blend it up in no time and it's SO good! Enjoy!
How to Store
Keep the salsa in a jar or container, covered, in the refrigerator for up to one week. Ours usually doesn't last that long because we like to put it on all of the things!
More Salsa Recipes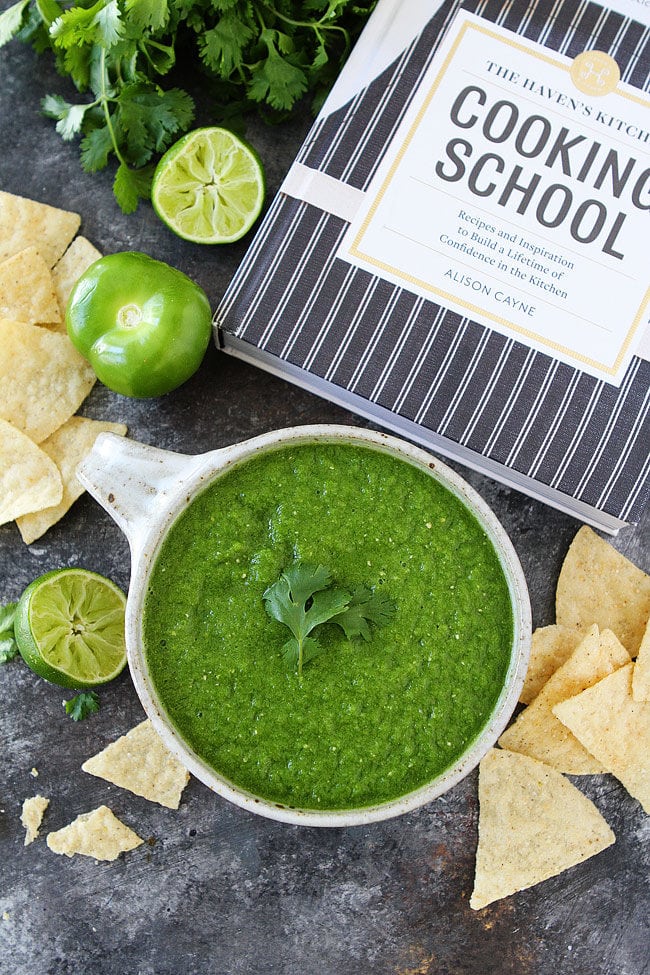 1

pound

tomatillos,

papery husks removed, rinsed and halved

1

small white onion,

chopped

2

garlic cloves

1

medium bunch of cilantro,

stems and leaves

1/4

cup

freshly squeezed lime juice

(2-3 limes)

2

Serrano chiles,

seeded and chopped

Kosher salt or sea salt,

to taste
Place the tomatillos, onion, garlic, cilantro, lime juice, and chiles in a blender and blend until smooth. If you have a small blender or not a very powerful blender, you can do this in batches.

Season with salt, to taste. Store in an airtight container in the refrigerator for up to 1 week.
Recipe from The Haven's Kitchen Cooking School by Alison Cayne
If you prefer roasted salsa verde, you can roast the tomatillos before blending. See the post for instructions.
Makes about 3 cups of salsa
Nutrition Facts
Tomatillo Salsa
Amount Per Serving
Calories 13 Calories from Fat 9
% Daily Value*
Fat 1g2%
Saturated Fat 1g5%
Sodium 1mg0%
Potassium 90mg3%
Carbohydrates 3g1%
Fiber 1g4%
Sugar 1g1%
Protein 1g2%
Vitamin A 41IU1%
Vitamin C 5mg6%
Calcium 4mg0%
Iron 1mg6%
* Percent Daily Values are based on a 2000 calorie diet.