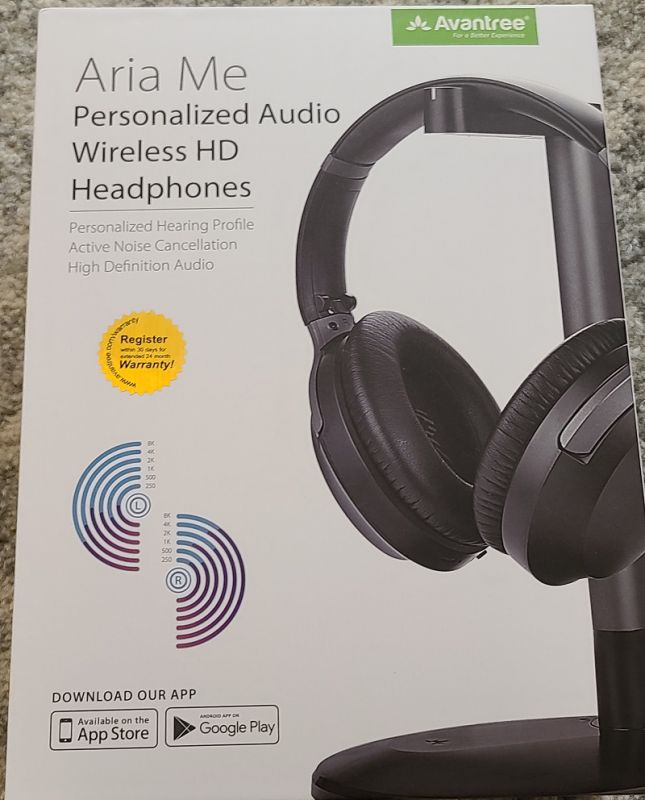 REVIEW – This was one of those products that I didn't expect to love from my first impression. The fit was fine, sound was pretty good, but when I first put them on I thought they'd be uncomfortable over time. I was surprised when I realized several hours later that I hadn't once taken them off, and had been enjoying good noise cancelling and excellent audio quality to boot!
What is it?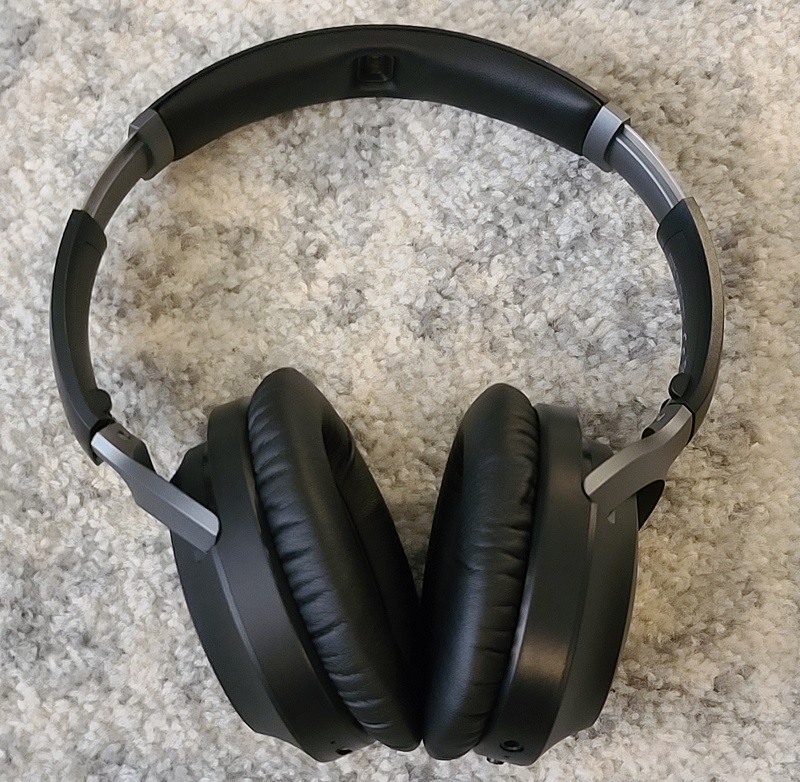 The Avantree Aria Me Auto-Optimized Audio Bluetooth Headphones are wireless Bluetooth noise cancelling headphones that can be adapted to the users unique hearing profile. This means that if you suffer from mild to medium hearing loss (for example, if you went to many punk shows in the 90's, and now your partner has to repeatedly yell at you before you hear her) these headphones will amplify those frequencies you have a harder time hearing. Samsung phones have had a feature for years where you could do a short hearing test, and the phone would then adjust levels to compensate for areas of mild hearing loss. The Avantree Aria Me Auto-Optimized Audio Bluetooth Headphones do a nearly identical function, with the added benefit of this tweaked audio profile staying with the headphones and not being restricted to just one device.
What's in the box?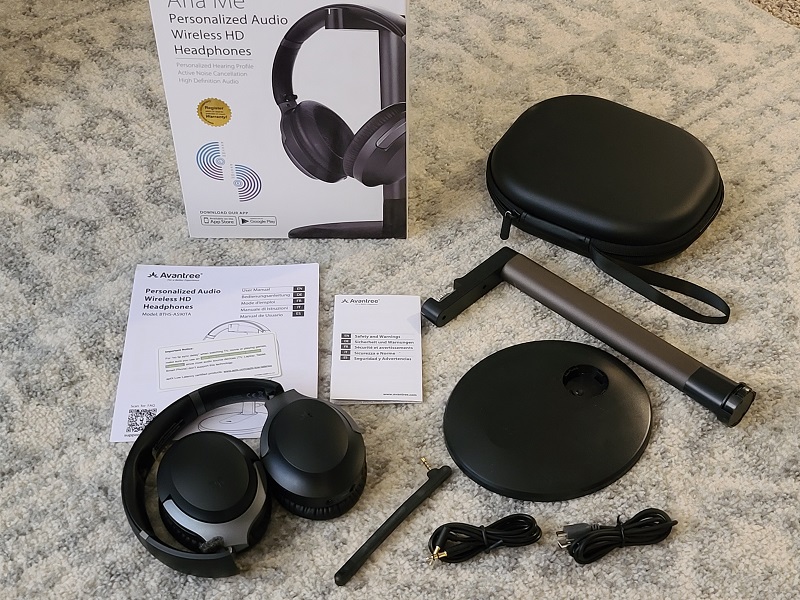 In the box are the Avantree Aria Me Auto-Optimized Audio Bluetooth Headphones, a charging stand/cradle, detachable microphone, travel case, and a USB charging cable (but no wall plug).
Hardware specs
Charging Holder & Headphone Stand 2-in-1
BT Version: V4.2
Supported profiles: HSP, HFP, A2DP, AVRCP
Supported code: aptX hd, aptX low latency, Fast Stream, SBC
Operation range: Class 2, 10 meters
Driver diameter: 40mm
Impedance: 32 Ohm
Frequency response: 20Hz~ 20KHz
Up to 24hrs playtime, Rechargeable lithium battery
Headphones net weight: 230g
Product size: 190 x 175 x 80mm
Design and features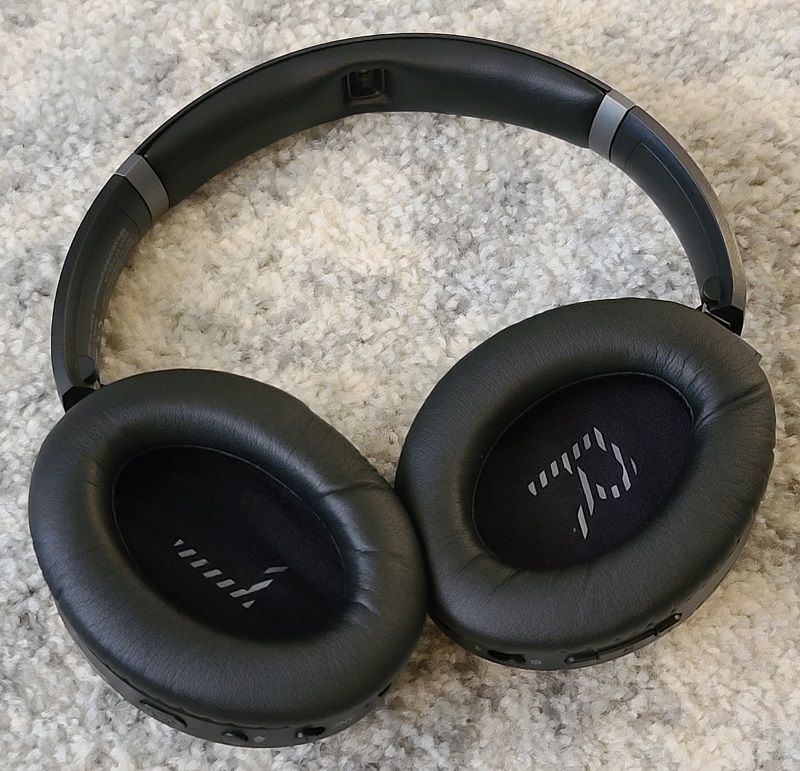 The design is very familiar, these don't really stand out in a crowd (sometimes that's a good thing). I really like how they have the large "L" and "R" markings inside the earcups. I hate when headphones or earbuds have the L/R markings tiny or hard to read. The ear padding looked like it wouldn't be enough for me, but I found them to be quite comfortable for even long sessions.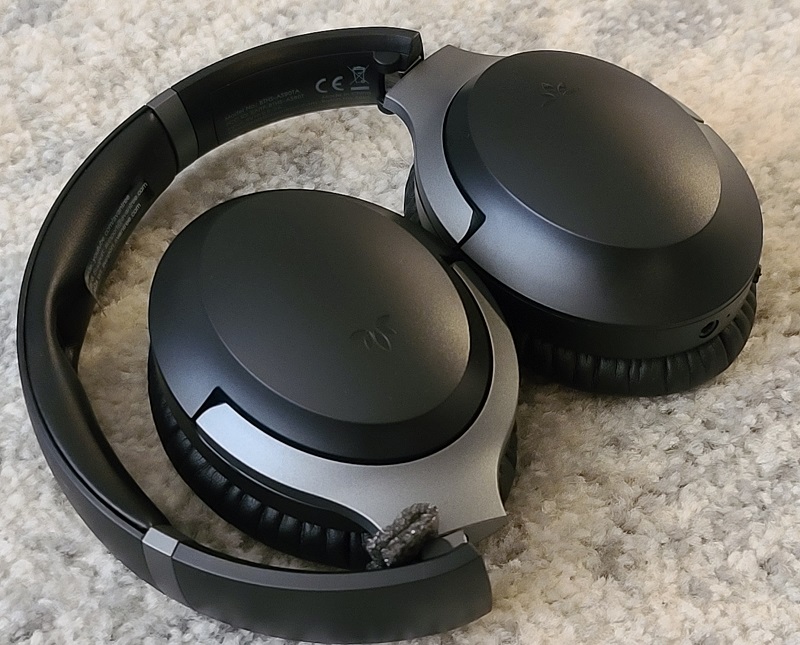 The Avantree Aria Me Auto-Optimized Audio Bluetooth Headphones fold up quite nicely for transport or storage (decent quality case included). The earcups and band are fairly minimalist, which I like. Only the unobtrusive Avantree logo is prominent from the outside.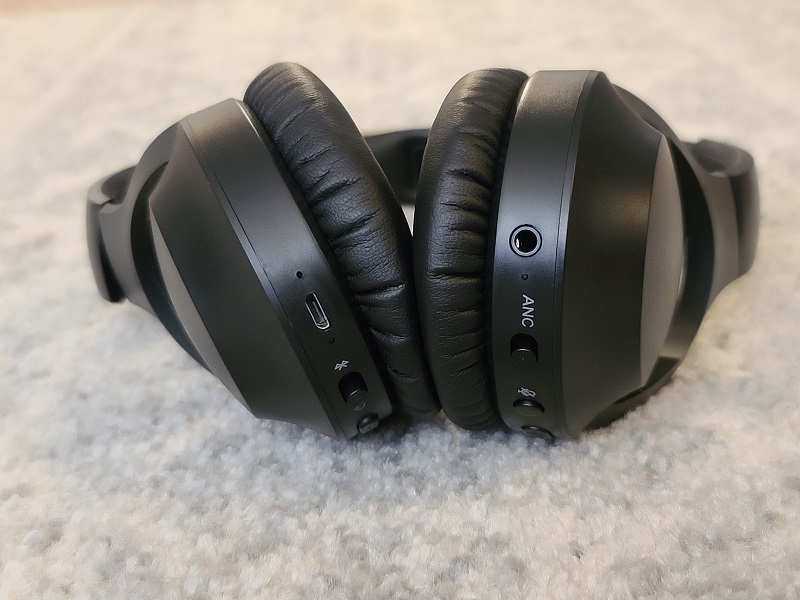 On the right earcup is the Micro-USB charging port, the power/bluetooth-pairing switch, volume up/down (which was easy to find by feel – always nice), and a play/pause button. Over on the left side is a standard 3.5 mm headphone jack which is used to connect the microphone boom, a toggle switch for ANC (automatic noise cancellation), a mute button, and a multi function button (which triggers Google Assistant on Android, Cortana on Windows, and Siri on Apple devices).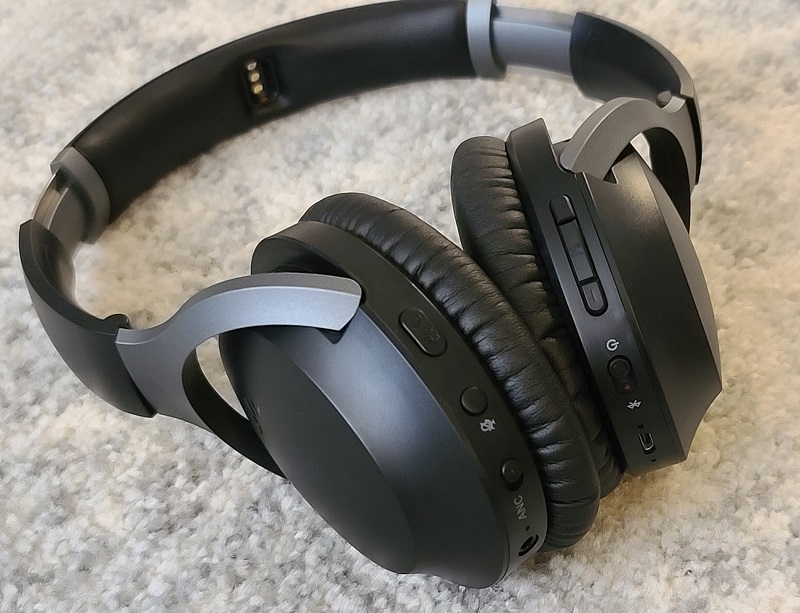 The headphone band has a nice range of adjustment. My larger than average head was easy to adjust for, and the band still had a little bit of room for expansion. It seemed like it could go much smaller as well, but I don't have a way of testing that with the fixed size of my skull.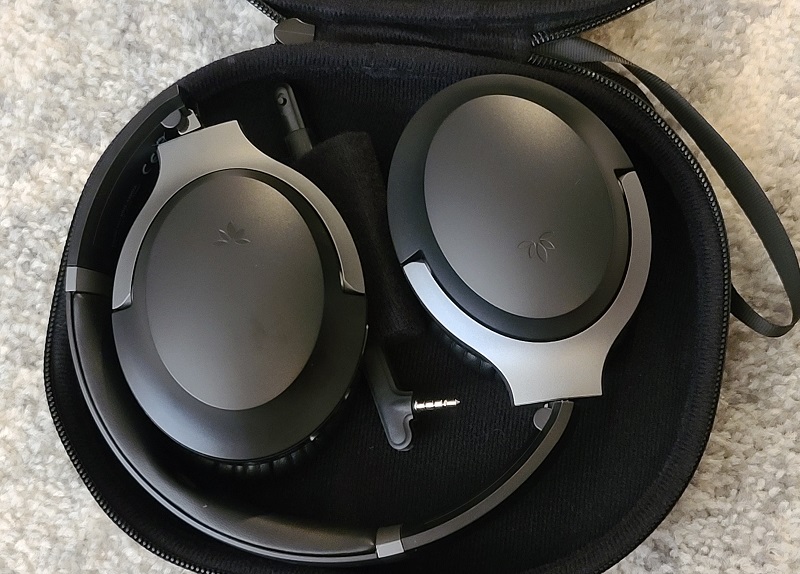 The travel case included is a hard-shell design. It's not super rugged, but better than a cloth case. I think it would protect the headphones from scratches and bumps fairly well.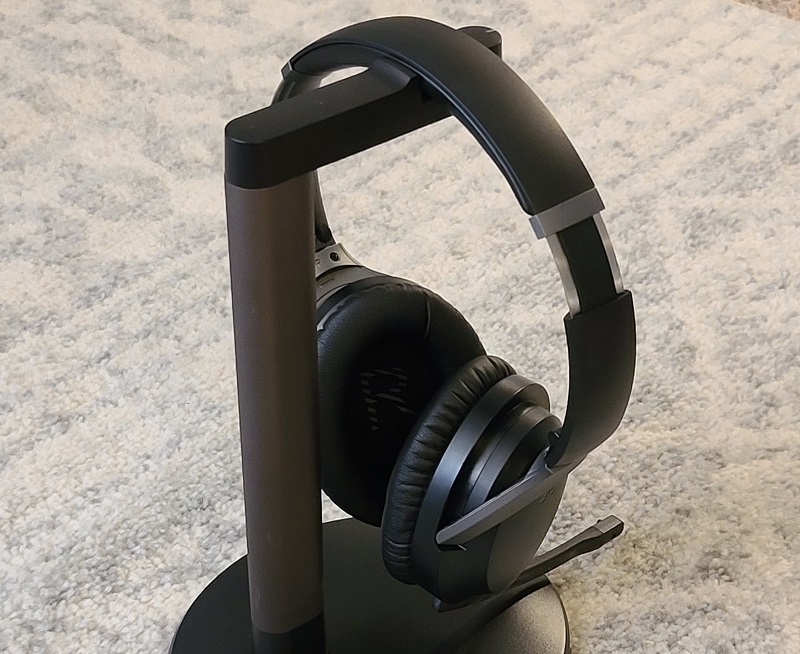 The charging cradle/headphone stand was nicer than I expected, it's easy to get the charging pins on the headphone contacts, I rarely had to try twice to get the right spot for charging. It looks nice on the desk as well, providing a good spot to store the headphones when not in use.
Installation and setup
The installation is as simple as connecting any Bluetooth device: you search for a new device after turning on the headphones and moving the on/off switch all the way to the pairing mode spot (opposite the off position).
Installing the app is optional, but if you're getting these headphones for the personalized audio feature, you'll want to install it at least once. There are instructions in the box or you can search for Avantree Audio in the Apple or Google stores. Once installed, it's quite easy to follow the instructions to conduct a hearing test that plays different frequencies at different volumes (you adjust the volume until you can just barely hear the tone for each frequency on each ear). The resulting custom sound profile can then be synced to the headphones. Once synced it is active regardless of the device connected (I uninstalled the app after this and didn't need it again), which I really liked.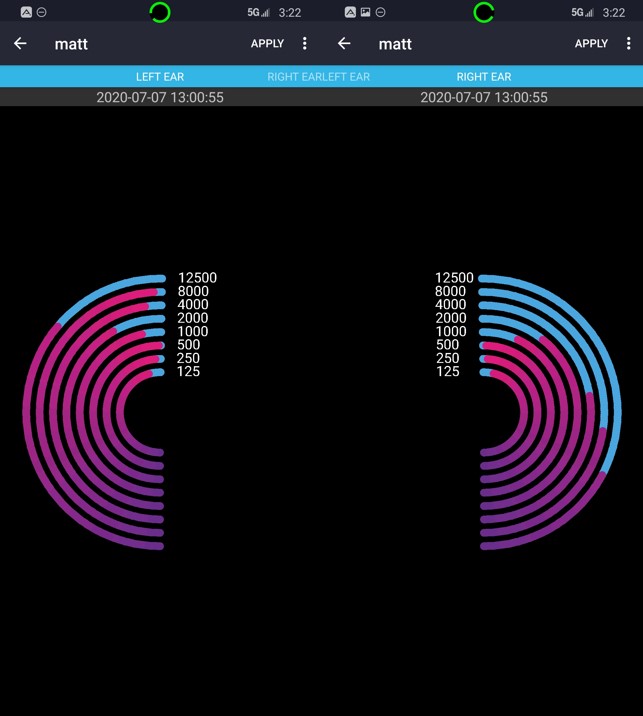 Listening to music was a delight, the sound quality was on par with most other ~$100 headphones I've used (like the Hyper X Cloud Flight S). Over the review period I listened to a variety of genres, and they sounded good across the board. Bass-heavy songs had sufficient bass (these "cans" aren't super bass heavy, but when listening to hip-hop or EDM tracks I didn't feel like they were lacking), and the mids and highs were clear and un-muddled.
Gaming on them on my Asus ROG Zephyrus G14 via bluetooth was fantastic. I've never had a pair of bluetooth headphones I felt I could use with gaming (often the sound is slightly delayed, but not in this case). The battery life is phenomenal, I used them for 16+ hour days without the battery dying – with music and/or gaming pretty much constantly playing. I believe the 24 hour battery estimate.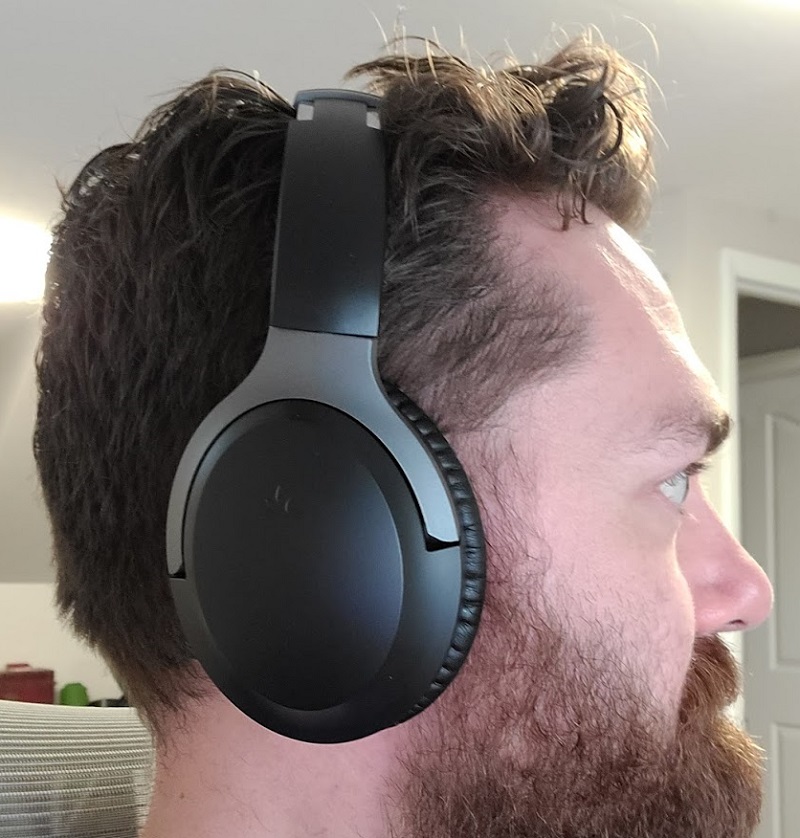 The microphone was fine for Zoom/Skype/Slack calls, but due to how computers handle Bluetooth audio you get a drop in audio quality while using the microphone. This is completely fine for work and communication tasks, but it was annoying while gaming – whenever someone was voice-chatting or if I'm speaking on Discord, the audio noticeably gets worse. There may be a way to get around this, but I found nothing in forums and remember having similar problems every time I've used Bluetooth headphones in the past with Windows 10. The microphone boom itself has a tiny mute switch on it which is nice (the mute switch on the bottom of the headphone cup can be one of the hardest buttons to find as it's nearly flush to the ear cup). The build quality of the microphone boom could be better though, it's a soft flexible rubber but doesn't keep its shape when bent. This means you have to swivel the entire boom towards or away from your face, instead of just slightly bending the boom a bit as I'm used to with most other headsets.
The ANC function was about average for the price/class of these headphones. Nothing I've used compares to the Bose Quiet Comfort 35's, but Avantree's implementation is quite nice. I tested in some very noisy environments such as next to a vending machine fan in a busy hallway at a hospital. With ANC turned on I could not hear the fan noise of the vending machine or my sometimes-loud laptop. It was eerily quiet, made even more so when footsteps were almost normal volume. The ANC seems to be very good at filtering out white-noise like engines and fans, but does next to nothing to other sounds. I like this approach a lot (as opposed to how the Bose Quiet Comforts filter nearly everything across the board). Flicking on that ANC switch in that noise hallway was a physical relief to my head, but I didn't feel completely deaf and was aware of other people when they approached.
What I like
Sound quality
Genuinely helpful user-specific audio enhancement
Comfortable fit
Good noise cancelling – especially for engines/air-conditioners/fans
Charging headphone stand is nice
What I'd change
Audio quality when using a microphone (though this is a problem with all Bluetooth headphones I've used)
Better quality microphone boom
USB-C charging on the headphones (it's 2020, micro-USB needs to die)
Final thoughts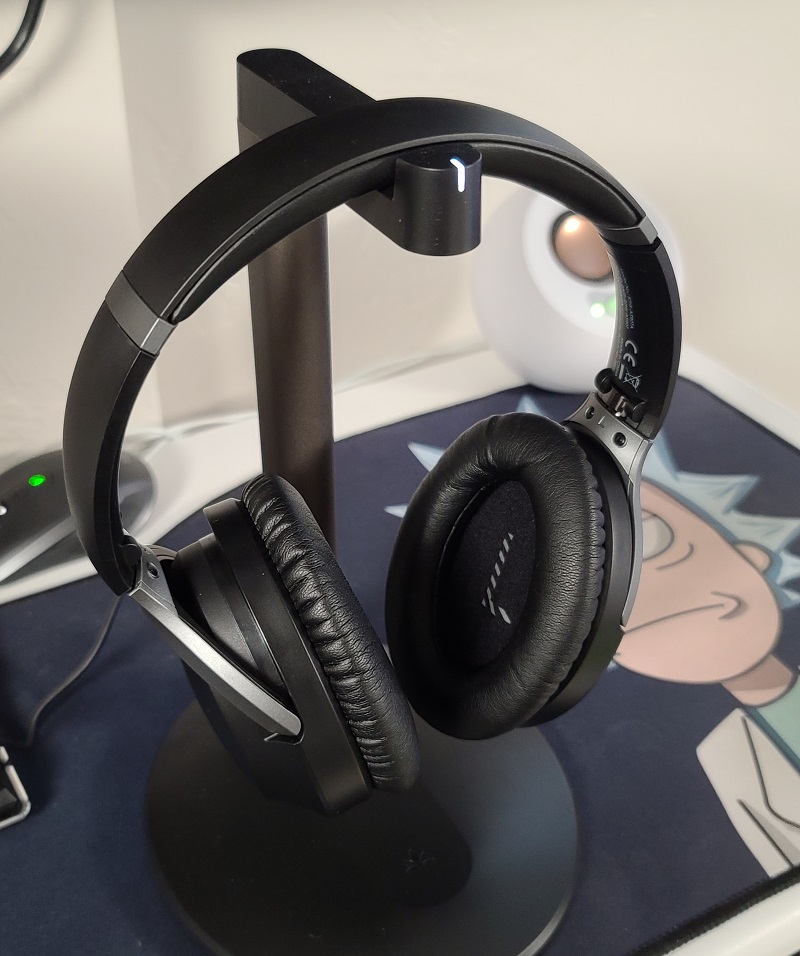 The Avantree headphones have replaced my last ones as my primary set. The personalized sound on top of quality hardware combined with good noise cancelling makes them perfect for my daily needs. The charging stand is handy and stylish on my desk, and the battery life is great. Avantree and other brands make other great ANC Bluetooth headphones for less, but for people with mild to moderate hearing loss, I don't know of a better option that improves the sound specifically for your ears.
Price: $149.99
Where to buy: Amazon (use coupon J3BEE75R for $15 off courtesy of The Gadgeteer)
Source: The sample for this review was provided by Avantree.

Support The Gadgeteer: The Gadgeteer's main sources of revenue are advertising and affiliate links in articles like this one. Even though we may receive compensation, we always give our honest opinions about our experiences with each product.

tinyurlis.gdclck.ruulvis.netshrtco.de